Three Strong Buys Trading For Under $10
Time to start connecting; best I can tell, Ligand Pharmaceuticals Inc. (Nasdaq:LGND) is the largest outside VKTX shareholder. The triple-digit priced biotech owns nearly five million shares of Viking. That's a major stake considering there are only 17.2 million VKTX shares outstanding.
Guess what? Mr. Foehr is Lignad's President and Chief Operating Officer. I'd say that's a substantial dot connected. It's not enough to own Viking Therapeutics through Ligand, the guy wants to add more of it to his personal account.
Perhaps, the LGND President sees the same thing as Zacks' analyst, David Bautz, PhD. Based on some recent data from the FDA on VK2809 and merger activity in the clinical-stage bio space, Bautz told clients "Viking is Significantly Undervalued," maybe as much as six times undervalued.
The PhD has an $8 target on Viking. If he is right, heck, if he is half right, Ligand, Matthew Foehr, and investors stand to make tons money on VKTX.
EVINE Live Inc. (Nasdaq:EVLV) – It's a Long Way to the Top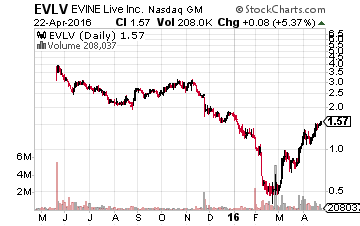 EVINE operates as a digital commerce company in the United States. The company markets, sells, and distributes products to consumers through television, online, mobile, and social media in various merchandise categories.
Formally known as ValueVision Media, Inc., EVLV has access to approximately 88 million cable and satellite television homes, as well as offers its products through live streaming at evine.com.
The online catalog company recently experienced what I term "Cluster Buying." That means more than one insider decided now is the time to purchase the company's stock.
Since late March, ten different executive team members and directors have loaded up on EVINE. Overall, the group bought 674,700 shares for a total investment of $667,600. That's a lot of cheddar, as the kids say.
The two biggest spenders were Robert J. Rosenblat, the Chairman and interim CEO, and Tim A. Peterman, Chief Financial Officer and Exec. VP – I always pay more attention when the company numbers cruncher puts his/her money on the table. Respectively, the duo spent $294,000 and $146,000 on EVLV.
Disclosure: You could collect an average of $3,268 in extra monthly cash with ...
more