Three Strong Buys Trading For Under $10
As a stockbroker, I would tell clients and prospects that insiders sell their company stocks for all sorts of reasons. They wanted to buy a car or a house or a football team (a play on a Pink Floyd lyric from the song Money). While they sell for anything, I would proclaim they only buy for one reason, to make money, just like you and I do when we feel a conviction that a company will succeed.
Continuing, I would end with management can say all sorts of things, but they never lie with their wallets. It was an effective line, not because it was salesy-sexy, rather because it is true, in my opinion.
Despite the belief that insiders buy with the intention of making the right call, it's not foolproof; otherwise, I, and countless others would be enjoying a fabulous early-retirement with big bucks in the bank.
Instead, separating the wheat from the chaff requires some dot connecting. Insiders cannot tell you why they are buying. That would be illegal. So, today I'll connect the dots as I see them for a trio of stocks under $10 with insider buying.
Viking Therapeutics Inc. (Nasdaq:VKTX) – Six Times Undervalued?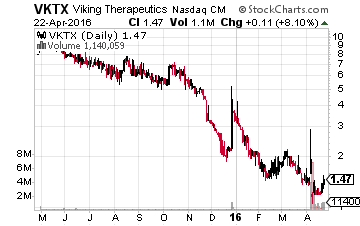 At first glance, Matthew Foehr's purchase of 20,000 shares seems small based on a total of $24,800. I nearly moved on to the next company on the list. A quick review of the company's executive roster doesn't show him as a day-to-day decision maker; he is just a director on the board. Without investigating, the initial response feels like the right one.
But… that is the first dot.
Viking is a clinical-stage biopharmaceutical company focused on the development of therapies for metabolic and endocrine disorders. Its lead clinical program includes VK0612, an orally available drug candidate for the treatment of type 2 diabetes, the most common form of diabetes and with 1.4 million new cases diagnosed every year according to the American Diabetes Association.The company also has drugs in the pipeline, including VK2809 for the treatment of lipid disorders such as hypercholesterolemia and fatty liver disease – more on VK2809 below.
Disclosure: You could collect an average of $3,268 in extra monthly cash with ...
more