Three Stocks Powering The 5G Revolution
Let's break these down. Faster speeds are self-explanatory. Users can move more data thanks to faster download speeds. Some folks are talking about 5G being 100 times faster than 4G. Honestly, I think five to ten times faster is more likely. This means that a high-def movie can be downloaded in a matter of seconds instead of minutes.
Lower latency is a fancy term for meaning more responsive. Have you ever missed a turn because your map software didn't update fast enough? Or missed a stock trade because the price moved away from you before you could execute the trade? That can be an annoyance for you. Now imagine what it could mean for something like a self-driving car. This is why the lower latency of 5G is such a big deal.
5G will allow for many more connected devices. Without getting too technical, 5G uses a much higher frequency than 4G, and as a result the bandwidth—and the amount of traffic that can flow through the network—is much higher.
This means being able to send a text or video when you're at your favorite team's stadium or at a concert. The high bandwidth, combined with technology that allows users to efficiently take advantage of that bandwidth. In other words, this means a low fewer spinning icons on your cellphone when trying to call that Uber or tell your family you're near home.
Who Are the Winners?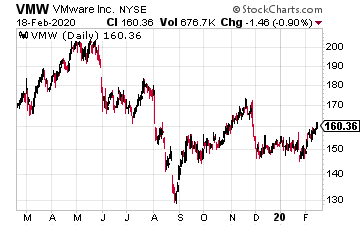 There are several sectors already benefitting from 5G. Application and software companies may be the greatest disruptors born out of 5G. One company, which is already benefiting from its software position in the 5G build out, is VMWare (VMW).
VMWare provides carriers with software that allows them to run multiple 5G networks on the same hardware. In other words, VMWare is making money by making 5G networks more efficient. Revenues have tripled in the past five years and should continue on a steep upward trajectory.
This is an especially good time to give VMWare a look. The next earnings report is due out on February 27. The company has beaten Wall Street's estimates for at least the last 11 quarters in a row. Look for another strong report.