Three Safe Stocks In A Stormy Market
This week, we're highlighting three stocks to buy if they get dragged down by the current market turmoil. These stocks are for great companies whose valuations are a little high. If those valuations decline, investors should scoop up these quality businesses. The Home Depot (HD: $227/share), The TJX Companies (TJX: $61/share), and ICON PLC (ICLR: $160/share) are this week's Long Ideas.
Market Fears Drive Overreactions
The global outbreak of the coronavirus has rattled the market. Investors and analysts alike are concerned about its impact on the global economy. The S&P 500 recently had its worst week since October 2008 while entering correction territory at the fastest rate in history.
World leaders and experts believe the outbreak will get worse, which could lead to further downside in the market. However, it's not all bad news for investors. Over the long-term, market corrections present great money-making opportunities, as Warren Buffett says "be greedy when others are fearful."
Focus on ROIC – It Drives Valuations
The winners both during and after a market crash, as we have shown, tend to be companies that earn a high return on invested capital (ROIC). Furthermore, there is a strong correlation between improving ROIC and increasing shareholder value. To that end, we began our search looking for companies with consistently high and/or rising ROICs.
In addition to high ROICs, the firms below have a history of rising core earnings[1],economic earnings. and positive free cash flow. Each of these companies are high-quality, value-creating businesses. However, as Figure 1 shows, their price-to-economic book value (PEBV) ratios show that the market still expects a significant amount of growth from them. PEBV compares the current valuation of a company to its zero-growth value. A PEBV of 1 would mean that the market expects the company's cash flows to stay flat into perpetuity.
Figure 1: Three Stocks Worth Buying If Prices Correct Further

Sources: New Constructs, LLC and company filings
Our Stock Rating Methodology considers a PEBV below 1.6 but above 1.1 to be "Attractive" and a PEBV below 1.1 but above 0 to be "Very Attractive". These companies are still less expensive than the S&P 500 (SPY) – with a PEBV of 2.6 – but more expensive than the stocks we typically recommend. If global fears send markets falling further, it could present an opportunity to get these quality businesses without paying a premium.
ICON, PLC (ICLR) – Attractive Rating
ICON, PLC (ICLR) was recently upgraded to Attractive (from Neutral) after we parsed its 2019 20-F (filed on February 27, 2020). We first made ICON a Long Idea in May 2017. Since then, the stock is up 82% while the S&P 500 is up 29%. The company remains a leading contract research organization (CRO) and a drop in price would present a great buying opportunity.
Over the past decade, ICLR has grown revenue by 12% compounded annually and core earnings by 16% compounded annually, per Figure 2. The firm has increased its net operating profit after-tax (NOPAT) margin year-over-year (YoY) in seven of the past 10 years and its 2019 NOPAT margin of 15% is up from 11% in 2009. ICLR has improved its ROIC from 16% in 2009 to a top-quintile 25% in 2019 and has generated $859 million (9% of market cap) in cumulative free cash flow over the past five years.
Figure 2: ICLR's Revenue & Core Earnings Since 2009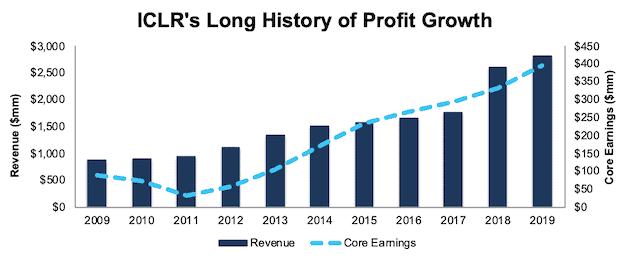 Sources: New Constructs, LLC and company filings
In 2019, ICLR had -$26 million in earnings distortion that caused GAAP earnings to be understated. Notable unusual expenses in ICLR's 20-F include:
$31 million in asset write-downs hidden in operating earnings – Page 93
These unusual expenses were partially offset by:
Only by removing these unusual expenses and gains can we evaluate the core earnings of ICLR's operations. In total, we identified $0.48/share (7% of GAAP EPS) in net unusual expenses in ICLR's 2019 GAAP results. After removing this earnings distortion, ICLR's 2019 core earnings of $7.27/share are higher than GAAP EPS of $6.79.
ICLR's Earnings Distortion Score (as featured on CNBC Squawk Box) is currently "In-Line", which means we expect it to report in-line with consensus expectations. Our Earnings Distortion Scores provide investors with a short-term look at the likelihood a firm will beat/miss consensus expectations. Longer-term, we focus on our overall Risk/Reward Ratings, which take into account a firm's historical profitability and the level of expectations baked into the current stock price. As noted above, ICON PLC earns an Attractive Risk/Reward rating, which means it provides quality risk/reward going forward, even if it's not more likely to beat consensus expectations in the coming quarter.