This Can't-Miss Strategy Has Failed For Over A Decade
It's not just banking. Many energy stocks have been classified as value stocks. Again, that's really due to the plunging price of oil. The big energy companies have assets that are accounted for at much higher valuations. Only in accounting terms are these companies value stocks.
What's being called a failure in value is really a failure in banks and oil. Energy makes up just 0.7% of the S&P 500 Growth, but it comprises 5.9% of the S&P 500 Value Index. Financial stocks comprise 4.5% of the S&P 500 Growth but 18.3% of the S&P 500 Value Index. That's quite a tilt.
As a result, what's being called the Death of Value Investing is really the long-term lousy performance of two sectors. There's still a lot of opportunity for real value investing if you know where to look.
Johnson and Johnson: 58 Straight Dividend Hikes
A good example of a value stock in the classic sense is Johnson & Johnson (JNJ). The health care giant trades with a dividend yield of nearly 2.9%. That's quite good, especially in this interest-rate environment. Best of all, J & J has increased its dividend every year for the last 58 years.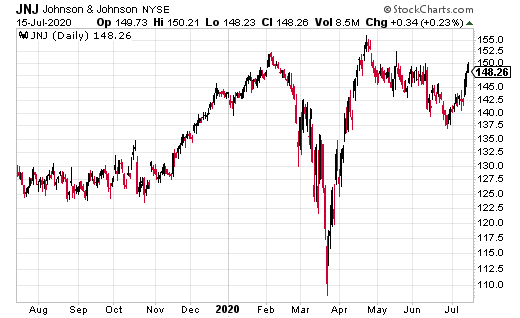 Johnson & Johnson is expected to earn $9 per share next year. That means it's going for about 16 times earnings. The earnings could even be higher. Consider than the company has beaten earnings for the last 13 quarters in a row. The streak could even be longer but that's as far back as my data goes.
The next earnings report is due out on July 16. The consensus on Wall Street is for earnings of $1.48 per share. Don't be surprised to see another earnings beat.
Disclosure: Information contained in this article and its websites maintained by Investors Alley Corp. ("Investors Alley") are provided for educational purposes only and are neither an ...
more