Third Point Reveals New Stake In Snowflake
(Click on image to enlarge)
A breakdown by sector exposure showed Third Point is focused on Media/Internet (net 22.5%), Financial (net 19.2%), and the Enterprise Technology (11.0%) sectors. Size-wise, the fund is mostly exposed to mega-cap companies with 54.9% in net exposure. Third Point also appears to be hedging single names mostly with index shorts which accounted for more than half, or 19.4%, of the fund total equity short of -33.6%
(Click on image to enlarge)
Within equities, gross exposure was 108.2% and 74.6% net of 33.6% in shorts.
(Click on image to enlarge)
A full breakdown of Third Point's Offshore fund since inception is shown below. It shows that the fund has suffered just four down years in its entire history: 2002, 2008, 2015 and 2018, and has returned a CAGR of 14.2% since Dec 1996, nearly double the S&P's compounded 8.5% return over the same period.
(Click on image to enlarge)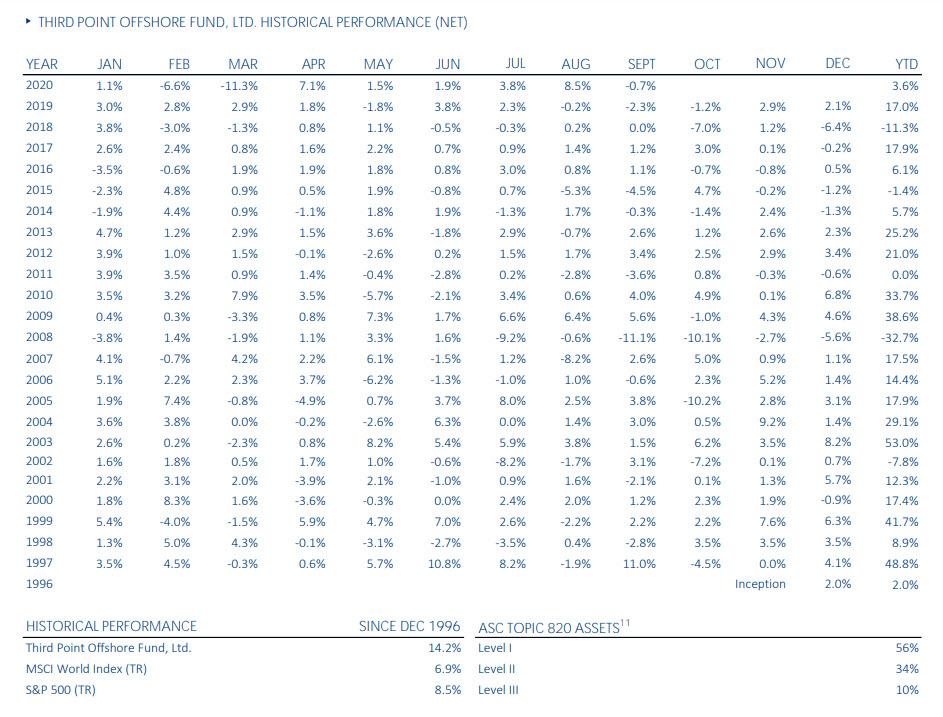 Disclosure: Copyright ©2009-2020 ZeroHedge.com/ABC Media, LTD; All Rights Reserved. Zero Hedge is intended for Mature Audiences. Familiarize yourself with our legal and use policies ...
more