These Three "Stay At Home" Companies Gain Market Share As Coronavirus Numbers By State Increase
As the country continues to battle coronavirus, cities, including San Francisco, and likely by the time you read this, New York, will have issued shelter in place orders. This means people living in these places, which totals well into the millions, should simply stay home.
I've talked a lot in the past few weeks about the "at home" stocks, whether it's working from home, or simply doing activities at home that you might normally do elsewhere.
The shelter in place orders have taken this to a new level. And, while temporary, these actions by federal, state, and local governments should, believe it or not, have a lasting positive impact on some businesses.
I don't know about you, but people I know who are not subject to these orders, have begun cocooning and don't want to go to the store on a regular basis anymore. But, they also don't want to give up being able to have variety in what they eat. None of my friends are eating cereal for every meal yet.
As we navigate these unprecedented times and actions here in the U.S. and globally as coronavirus numbers increase, there will be winners and losers. I'll keep trying to find stocks like these for you that may prosper in the current adversity we are experiencing.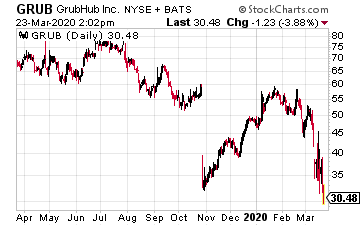 Grubhub (GRUB) delivers food from a huge variety of restaurants directly to your door. The company has signed contracts with the likes of Burger King, Taco Bell, and Pizza Hut.
And, not only does Grubhub deliver for major chains, but brings delivery options to local mom and pop restaurants that have either not been able to offer delivery options, or have a very limited area of delivery availability.
Even in restaurants that have delivery offerings, which have both a robust software to manage delivery offerings, as well as an in-place driver stable (not sure what that is?; audience may not either), the delivery may be cheaper and more efficient with Grubhub.