These Three High Yield Stocks Get Bullish Analyst Ratings During The Bear Market 
The pandemic-triggered stock market selloff has been incredibly tough on income investors, and the dividend-paying stocks they like to own. In the current market, investors have been drawn to big-name companies whose business was uninterrupted by the crisis. This group pays small or no dividends. Several factors have kept dividend-paying stocks down, but that means opportunity for patient investors.
For my readers, I discuss three factors that have hurt higher-yield stocks over the past three months.
A large portion of the high-yield universe is energy sector companies. The crash in crude oil started even before the major stock market indexes. The dramatic drop in the price of oil helped pull energy stocks into an intense bear market.
Before the crash, a strategy of leveraging portfolios of high-yield stocks was popular. The bear market forced many leveraged ETNs and CEFs to dump shares to stay afloat. A couple of dozen funds went entirely out of business.
Hundreds of companies have reduced or suspended dividend payments. Investors are uncertain of which stocks will be the next to announce dividend reductions. This fear has held down share prices of higher yield stocks.
In recent weeks, Wall Street analysts have turned more positive on the stocks they believe will sustain their dividends. Stocks that pay attractive yields and are also highly rated by analysts are an excellent place to fortify the income-focused part of your investment portfolio.
Here are three high yield stocks getting bullish ratings.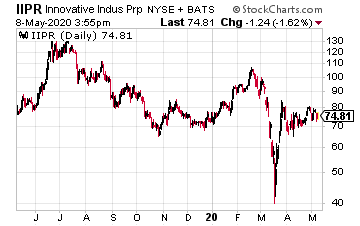 Innovative Industrial Properties, Inc. (IIPR) is rated bullish or very bullish by four of the five analysts that cover the company.
IIPR is a real estate investment trust (REIT) that provides real estate capital to the medical-use cannabis industry.
IIPR has paid a strongly growing dividend since its early 2017 IPO. In December 2019, the dividend increased by 28%, and the company declared another dividend at the same rate on March 13.
Disclaimer: The information contained in this article is neither an offer nor a recommendation to buy or sell any security, options on equities, or cryptocurrency. Investors Alley Corp. and its ...
more