These "Most Crowded Stocks" Face The Greatest Risk Of Wipe Out
Two months ago, BofA appeared to stumble (with a five year delay after this website did) upon the holy grail of investment strategies: as we reported at the time, the bank's analysts echoed what we first said in 2013, when we presented what we then viewed (and still view) as the best trading strategy of the New Abnormal period, when we said that buying the most shorted names while shorting the names that have the highest hedge fund and institutional ownership is the surest way to generate alpha, to wit:
... in a world in which nothing has changed from a year ago, and where fundamentals still don't matter, what is one to do to generate an outside market return? Simple: more of the same and punish those who still believe in an efficient, capital-allocating marketplace and keep bidding up the most shorted names.
Fast forward to April, when Bank of America confirmed once again that with just one exception, the historically un-volatile 2017, this strategy has continued to be consistently profitable, as "over the last several years, buying the most underweight stocks by large cap active funds and selling the most overweight stocks by large cap active funds has consistently generated alpha."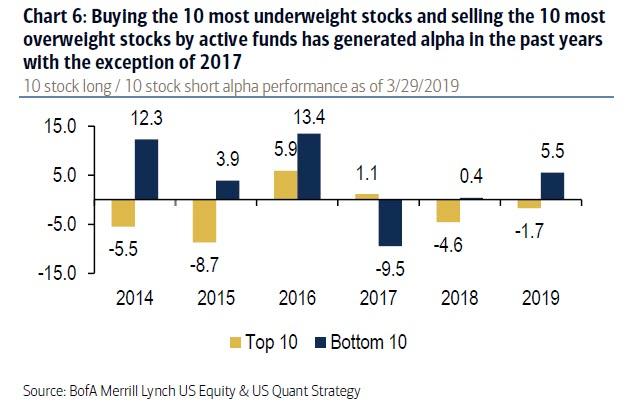 Then, in an attempt to drill down on how this highly contrarian strategy generates its returns, Bank of America strategists broke down the universe of most disliked stocks by both hedge funds and long long only funds. Next, when analyzing the returns of the "most shorted" basket of stocks by hedge funds, BofA found that those stocks which also have high crowding risk among long-only funds lagged the market significantly (-12.9% vs. +4.7% for the equal-weighted S&P 500).
However, when looking at the most shorted by hedge fund basket, that quintile of stocks neglected by long-only funds outperformed the universe by a big margin, tripling the return of the broader market (+16% vs. +4.7%). Similarly, within the most neglected basket of stocks by long-only funds, hedge funds' overweights have generated a modest, 3.3% return, underperforming the universe by 1.4% - and "surprisingly" their underweights ("shorts") by 13%.
Disclosure: Copyright ©2009-2018 ZeroHedge.com/ABC Media, LTD; All Rights Reserved. Zero Hedge is intended for Mature Audiences. Familiarize yourself with our legal and use policies every ...
more