These High-Dividend Stocks Are The Perfect Remedy For Market Uncertainty
After hitting record highs in the middle of the pandemic, stock indexes are suddenly falling into the red.
That makes this the perfect time to shift some money out of more speculative assets into more durable high-dividend stocks that can pay you cash for owning them. That's a tried and true strategy for fighting the uncertainty in markets.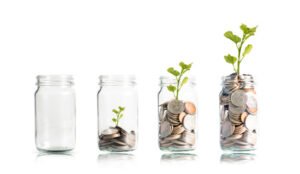 You see, investors are anxious that the high price of stocks coupled with an economy still hobbled by COVID-19 is a recipe for high volatility or even a sustained downturn.
In fact, we're already seeing some evidence of that.
As investors continue to anticipate a faster pace of vaccination, allowing the economy to run on all cylinders, bond prices are falling. The resulting rise in long-term interest rates has spooked some sectors of the markets.
Tech stocks, in particular, have seen selling as low long-term interest rates have been one of the justifications for high valuation levels. The Nasdaq is down about 5% from its peak two weeks ago, while some stocks like Apple Inc. (NASDAQ: AAPL) are firmly in correction territory.
While volatility takes a toll on tech shares, it's creating an opportunity in dividend stocks…
Why Dividend Stocks Are in Play Now
Normally when markets get choppy, investors can flee to safe-havens. But with interest rates at historic lows, there aren't many to choose from.
Even as long–term rates ticked slightly higher, U.S. Federal Reserve Chair Jerome Powell has been quick to tell investors not to expect the Fed to raise short-term rates anytime soon. Speaking to the Senate Banking Committee on Tuesday, he said that the U.S. economy is a long way from full employment and the Fed's inflation goals.
That means the Fed will continue to support the economy with low-interest rates and asset purchases.
With interest rates held down by the Fed for the foreseeable future, this opens up a tremendous opportunity for income-starved investors.
Disclaimer: Any performance results described herein are not based on actual trading of securities but are instead based on a hypothetical trading account which entered and exited the suggested ...
more