These Could Be The Hottest Dividend Stocks Right Now
The fund's options strategy will consist of selling call options generally on 30% to 80% of the portfolio's total value.
The IRR current yield is 9.1%.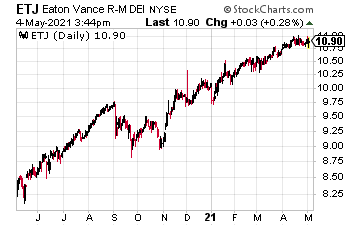 The Eaton Vance Risk-Managed Diversified Equity Income Fund (ETJ) invests in a diversified portfolio of common stocks. Managers purchase out-of-the-money, short-dated S&P 500 index put options and sell out-of-the-money S&P 500 Index call options of the same term as the put options with roll dates that are staggered across the options portfolio.
The put options are a hedge against a falling stock market. ETJ pays monthly dividends and yields 8.4%.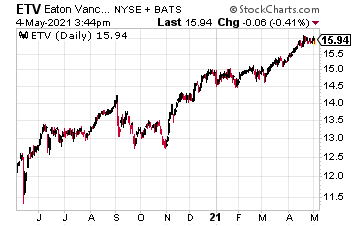 The Eaton Vance Tax-Managed Buy-Write Opportunities Fund (ETV) invests in a diversified portfolio of common stocks. Fund managers write call options on one or more U.S. indices on a substantial portion of the value of its common stock portfolio to seek to generate current earnings from the option premium. ETF also pays monthly dividends and yields 8.3%. The ETV share price will be more volatile than ETJ.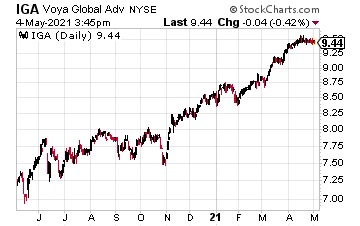 The Voya Global Advantage and Premium Opportunity Fund (IGA) invests in global stocks and sells call options on selected security indexes or ETFs on an amount equal to approximately 50% to 100% of the value of the common stock holdings.
The fund also hedges major currency exposure to reduce volatility. IGA yields 8.3%.
All five funds currently pay stable dividends, while at the same time giving you exposure to stock market gains.
Disclaimer: The information contained in this article is neither an offer nor a recommendation to buy or sell any security, options on equities, or cryptocurrency. Investors Alley Corp. and its ...
more