These Are The Stocks That Won In The Past Decade
The number of job cuts in March fell again. As you can see from the chart below, they are even below where they were in 2019. It's only a matter of time until the labor market becomes as full as it was in 2019. Cut announcements fell 11% from 34,531 to 30,603. Washington state had the highest year-to-date layoff announcements as they totaled 35,907. That's much higher than 2nd place Texas which had 24,300.
(Click on image to enlarge)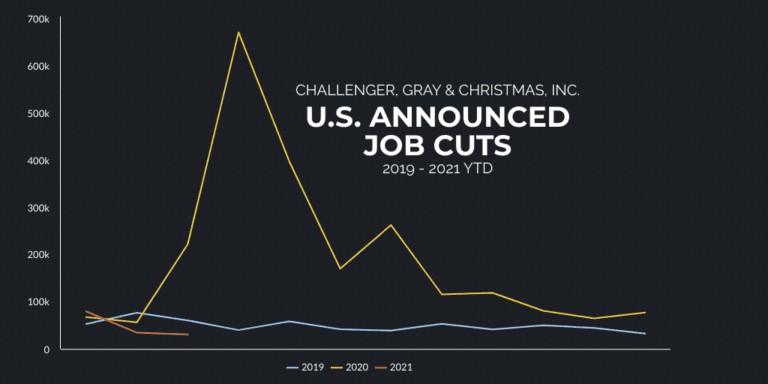 Source: Challenger Gray & Christmas
The telecommunications industry had the most cuts in March as there were 5,155 announcements. There were only 1,987 cut announcements due to a demand downturn. Demand is skyrocketing. That's no longer an issue. For context, there were 37,121 cuts for that reason in the first 2 months of 2021. 12,356 of the cuts in March were due to market conditions which is a vague category. That's what you say when you don't have a great reason. When would market conditions not be the reason for layoffs?
The worst part of this report was that there were only 97,767 hiring announcements which was down from 146,403. That stat isn't correlated with the BLS readings though. There were 929,860 hires in September which was the highest of 2020. September didn't have anywhere close to the highest job creation last year according to the BLS. Announcements might cause a delayed reaction, but it's not like the months following September had fantastic BLS readings either. The leisure and entertainment industry had the most hires at 25,035 in March.
Peak ISM: Soak It Up
The ISM manufacturing PMI rose from 60.8 to 64.7 which was a 37 year high. This is probably the cyclical peak in the diffusion index. However, just because this is the peak doesn't mean this is the peak in industrial production. It's simply that the ISM survey asks businesses how they are doing compared to last month. It's doubtful this percentage of businesses will say business got better in the next few months. How could they? The comps will be much tougher.
Disclaimer: The content in this article is for general informational and entertainment purposes only and should not be construed as financial advice. You agree that any decision you make will be ...
more