These 5 Stocks Are Taking Off With Online Games And Even Online Betting
The Great One took home the victory. And then, the Great Eight evened the score. An epic battle took place a few weeks ago between the greatest hockey player ever, and the upstartchasing his record.
Fresh off of winning the Stanley Cup with the Washington Capitals, Alex Ovechkin took on Wayne Gretzky in a one-on-one matchup of two of hockey's greatest players. Only problem? Gretzky is 59, and retired many years ago, while Ovechkin is in his prime, looking to capture at least one (maybe two, or three?) more Stanley Cups. So, how did they split a two-game series?
Gretzky was able to overcome his age disadvantage (or some might argue wisdom advantage)…because the game took place virtually, in EA Sports NHL 20.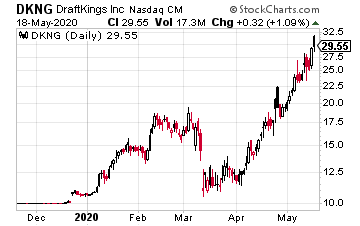 And, it's not just hockey. NFL players are streaming virtual football—and games like Call of Duty—to large audiences. NBA players are playing basketball, NASCAR drivers are racing, and tennis pros are playing tennis. There is even betting available via online gambling sites like DraftKings (DKNG).
Sports will be back. But, in the meantime, the online gaming frenzy that had already been ignited by the likes of Fortnite, League of Legends, and other popular competitive online games, has seen a surge in activity.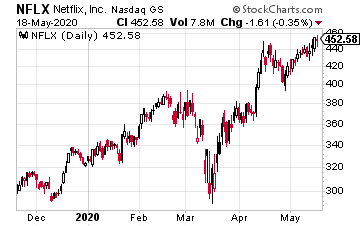 Not only are more people at home playing games, but we're all looking for entertainment. There are only so many Netflix (NFLX) shows you can watch in a single night. So why not watch sports stars, who we are obsessed with already (I know you've been watching ESPN's The Last Dance), play video games and perform their sorely missed celebrations, via Twitch?
And, as more people play, and watch, and bet, on video games, there are companies out there profiting from our newfound habits. These are three of the companies reaping the benefit of the new normal.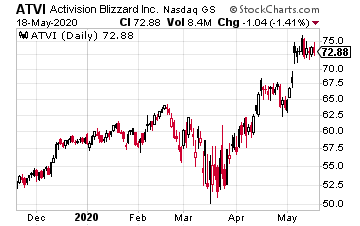 Activision Blizzard (ATVI) recently reported earnings, and promptly jumped 6% higher. The stock is up over 20% in 2020. In the last few weeks I've written extensively about companies that are doing well in the current environment. ATVI could be a poster child for that group of companies. Not only is the company benefiting from a more captive audience, but has also launched a very successful new edition of Call of Duty, one of its franchise properties.