These 3 Industries Tanked S&P Earnings
Some still ask how the market has done so well with such poor earnings. The answer is the bad industries make earnings look much worse than they are. Whenever you take out the worst of a group, the average always looks better, but in this case, the bad industries were really bad. This is because of COVID-19 of course. 36 industries had yearly earnings growth and 27 had declines. The decliners were much worse than the winners. Interactive media & services and software had $5.2 and $4.1 billion in yearly earnings growth.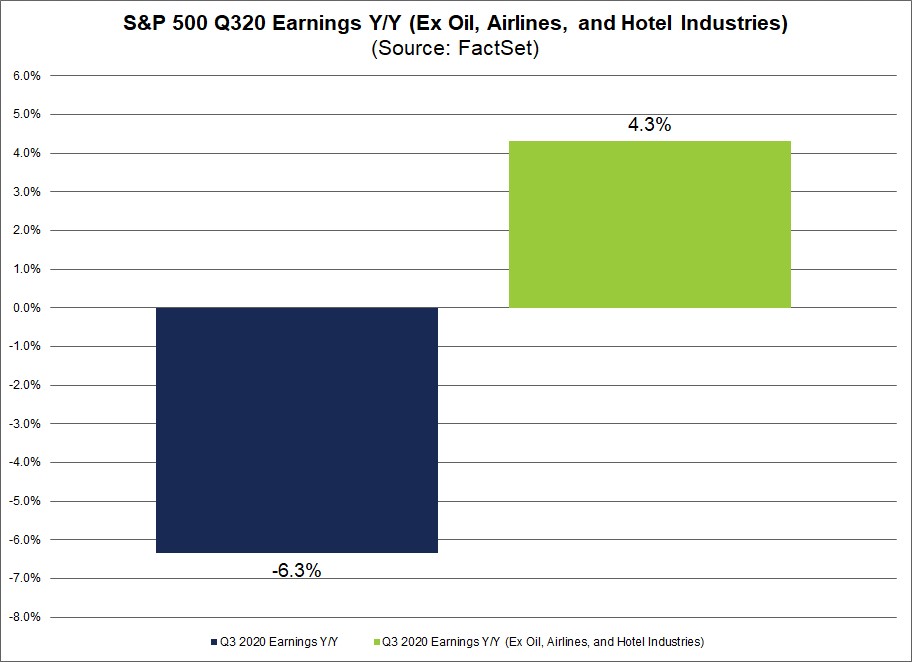 Oil, gas, and consumable fuels on its own more than counteracted those winners as its earnings fell $14.3 billion. Furthermore, the airlines and hotels, restaurants, & leisure had $13 and $9.7 in billion declines. This caused the delta between overall earnings growth and earnings growth without the three worst industries to be 10.6%. Overall S&P 500 EPS growth was -6.3%; growth without the three worst industries was 4.3%. This helps explain how stocks have done so well. Most traders would have called you insane in early April if you stated Q3 EPS would be up without the three worst industries. Results have dramatically beaten what the consensus expected in the spring which is why the market is much higher than it was then.
Retail Sales Continues Q3 Trend
We mentioned how the BAC card spending data was much better than the Chase data in a previous article. The details of the BAC reading are in tune with Q3 earnings season. Nothing changed because the new normal created by COVID-19 is still in place. If anything, the new normal is more deeply ingrained than ever because we have record-high cases and hospitalizations due to the virus. The 7 day average of deaths has unfortunately gone vertical.
Retail/spending trends pic.twitter.com/13sF7d85Gl

— Thunderdome Capital (@MadThunderdome) November 19, 2020
As you can see from the table above, the yearly decline in airlines spending was 62% as of November 14th. The seasonally popular pre-Thanksgiving travel period is not going to have as much action as it usually does (although TSA throughput yearly growth hasn't dipped as of November 22nd). Spending at restaurants and bars went from up 6% on November 11th to down 10% on the 14th. Normally, a few days wouldn't matter, but in this case, it does because restrictions are increasing. The yearly decline in dining reservations on OpenTable went from -42.8% on November 11th to -50.7% on November 22nd. The restaurant industry is looking grim. On the other hand, working from home is still popular. The 7 day average of yearly growth in online electronics (card not present) was 124%.
Disclaimer: The content on this site is for general informational and entertainment purposes only and should not be construed as financial advice. You agree that any decision you make will be ...
more