The Real Earnings Season Starts Now: Finding Gold In Footnotes
Corporate earnings season may be winding down, but the real earnings season – annual 10-K filing season – starts Tuesday, Feb. 19.
Corporate earnings announcements provide investors with limited and often misleading data. Only by reading all of the financial footnotes, which are only included in annual 10-K reports, can investors analyze true profits.
In the few 10-Ks already filed in 2019, the footnotes make one stock look better than what the headline numbers show.
Analyzing Footnotes Allows Us to Reverse Distortions in Reported Earnings and Valuations
Figure 1 shows that GAAP net income growth over the past five years has almost no impact on the change in market cap for companies in the S&P 500.[1]
Figure 1: GAAP Net Income Growth and Change in Market Cap Over the Past Five Years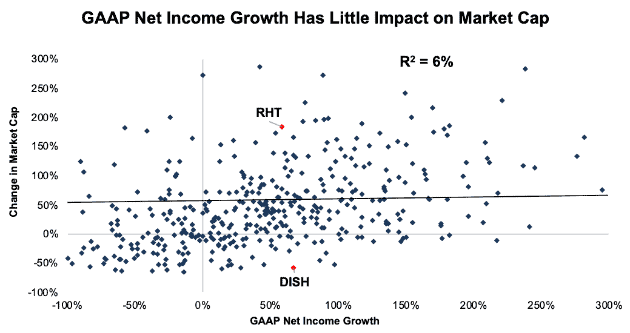 Sources: New Constructs, LLC and company filings.
Note that Red Hat (RHT) and Dish Network (DISH) have grown GAAP net income by a similar amount over the past five years (58% for RHT, 67% for DISH). However, RHT's market cap has nearly tripled while DISH's has fallen by more than half. When accounting for changes in share count, RHT's stock is up 206% over the past five years while DISH is down 45%.
GAAP earnings growth for both companies is distorted due to the impact of the new tax law on TTM earnings. When we strip out accounting distortions, RHT grew after-tax operating profit (NOPAT) by 123% over the past five years, while DISH grew NOPAT by just 8%.
In addition, GAAP earnings ignore changes to the balance sheet. RHT employs a capital-light model that helped it improve ROIC from 8% in 2014 to 15% TTM and generate $800 million (3% of market cap) in free cash flowover the same time.
Meanwhile, DISH has spent billions of dollars on wireless spectrum rights that have yet to produce any significant value. As a result, ROIC has fallen from 15% in 2014 to 6% TTM and DISH has burned through $11.6 billion (84% of market cap) in negative free cash flow over that time.