The One Risk Percolating In The Back Of Investors' Minds
One of the central questions exiting last week was would the federal government shut down? Early Saturday morning we had the answer, and yes it was shut as the deadline to fund the government passed without a new spending bill. It's being reported that talks are continuing, but as I write this early Sunday morning, certain parts of the federal government are set to remain closed heading into the work week.
Candidly, it seems like a game we've seen before — political chicken, and the word to focus on amid all of the cable TV finger pointing is "duration." How long will the federal government be closed?
Answer: Right now, no one is sure, but as we all know, the longer it is closed the odds are a minor disruption becomes a larger one.
Here's the thing, if we used the US stock market as a barometer for the shutdown, one would have thought there was little to no chance of it happening.
Why? Because US stocks continued their melt up, setting some new record highs in the process as investors focus on the EPS hikes to be had following tax reform and prospects for more Wall Street strategists to boost their price targets for the S&P 500. We've seen some of this already, and with the pace of 4Q 2017 earnings quickening this week and next, odds are we will see much more of it.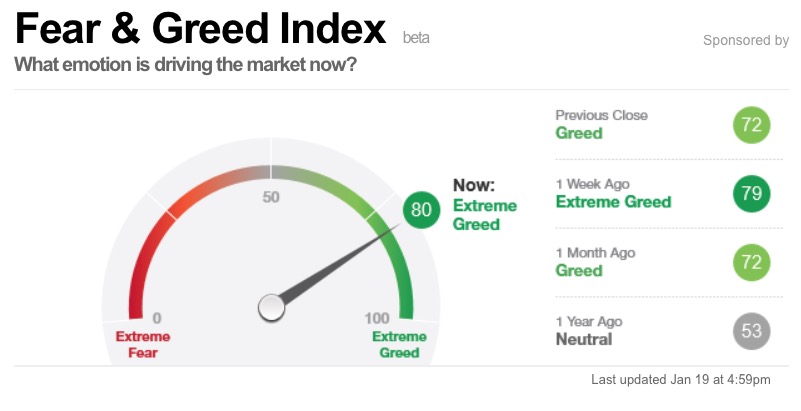 My view remains that in the near-term the market will continue to melt higher, and with the CNNMoney Fear & Greed Index holding steady last week at "Extreme Greed", up from "Greed" a month ago, I suspect many investors will welcome it. As that happens, and we see already stretched valuation metrics become even more so, I'll be watching for confirming signs for one risk that is percolating in the back of this investor's mind — will the impact of tax reform on the economy live up to expectations being set given consumer debt levels and dearth of skilled workers when the stock market is increasingly priced to perfection. For more on those stretched valuation, I'd suggest checking out last week's Cocktail Investing podcast.