The No. 1 Electric Vehicle Stock Is On Sale Right Now
So what we have here is a class of beaten-down stocks primed for an eventual return to old highs and ultimately far beyond
Of all the electric vehicles, I like Tesla Inc.'s (Nasdaq: TSLA) the best right now, and TSLA stock is definitely going for a discount. You may remember a few months ago when I listed some key levels to look at, and right now, we're there.
The chart looks really rough and, if you look closely, mighty tempting: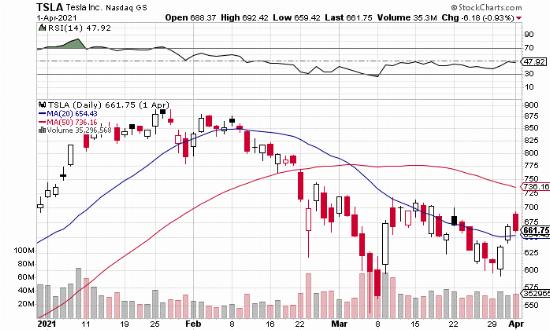 The stock is down nearly 25% from its January all-time highs north of $800 and is trading well below its 50-day simple moving average (MA50), with decent support at $600. But over the past few days it's broken above the short-term 20-day moving average, which says it could be ready to start the trip back up toward $800.
In other words, this is probably a chance to buy an $800 stock for $660 – not a bad deal at all. Tesla call options are looking expensive right now, at least to buy outright, and I can't make a specific trade recommendation, but a credit spread could put some extra cash in your pocket on top of the gains you'll likely get from your TSLA shares.
In this case, you'd buy a TSLA call option one or two strikes below the current price and sell a call option one or two strikes above the current price and pocket a net credit – just make sure they have the same expiration date. You'd maximize your profits if the price shoots past the higher-strike option, which it very well could.
Disclaimer: Any performance results described herein are not based on actual trading of securities but are instead based on a hypothetical trading account which entered and exited the suggested ...
more