The 'Most Crowded' Trade Ever
Usually, there isn't unanimity in the Bank of America fund manager poll which asks which is the most crowded trade, but there was in July because of how well tech stocks have done. As you can see from the chart below, 74% of fund managers said long U.S. tech stocks was the most crowded trade. That's the highest reading ever for any trade. Gold hit $1,800 which put it close to a new record high, but that didn't stand a chance compared to the tech sector. That's because the big internet names are huge. Apple, Microsoft, Amazon, Facebook, and Alphabet combined are 20.4% of the Wilshire 5,000 which includes all the publicly traded U.S. stocks. Apple, Amazon, and Microsoft each have market caps between $1.6 and $1.7 trillion. The entire Russell 2000 only has a market cap of $2.03 trillion.
(Click on image to enlarge)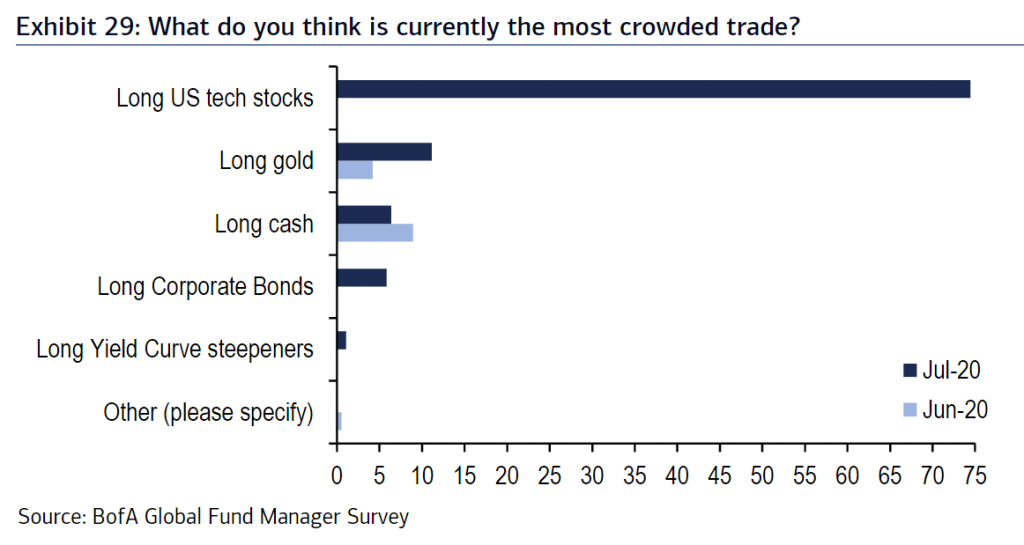 Source: BAML via @Callum_Thomas on Twitter
FANG Index Explodes
The tech and FANG stocks have exploded for a few reasons. First, the market has momentum following the March bottom. FANG has led markets for 6 years. They regained their place as leaders in the past few weeks. FANG+ is up 82.5% since the bottom. 2/3rds of the S&P 500's rally in the past 5 years has come from the FAAMNG stocks. It has been incredibly tough for funds to outperform without owning these large cap stocks.
We aren't advising you to avoid them, but recognize that you have a huge advantage by not having to own them. Smaller companies can drive your account because you aren't investing a multibillion-dollar portfolio. You also don't have investors who would think you are bad at your job because you don't own Amazon. That's called career risk. You can buy whatever stocks you want and it doesn't matter if you underperform for a few quarters. You should be focused on growing your wealth for the long-term, not over a few months.
These stocks have gotten help from retail traders who are piling into the winners. Tesla is the most prominent example. It's not part of the FAANG index, but it is considered to be a tech stock by the bulls. According to Robintrack 37,600 retail traders piled into Tesla stock in 4 hours on Monday. Investors like the cloud and online retail stocks because they do well during the shutdown; they are seen as safety stocks even though they have high valuations. The final aspect contributing to this rally is low inflation and low interest rates. These aren't new phenomena, but the rally in growth stocks also isn't new, so it works.
Disclaimer: Please familiarize yourself with our full disclaimer here.