The Luke Combs, "Lovin' On You" Stock Market (And Sentiment Results)
The good news is they will probably make money even buying up ~$50 – so long as they take a 3-5 year view – as this can be a $70-$80 stock in this next cycle 3-5 years out (in our view). We have covered the reasons in previous notes.
Out of Cash and Into Value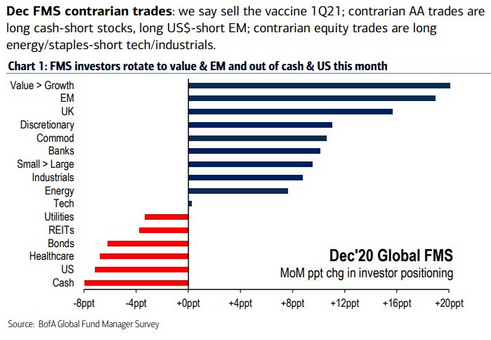 With such a dramatic move from flat-footedness/caution prior to the election (which we suggested against in our October 29, 2020 article).
I think the case BofA makes for a "sell the vaccine" contrarian trade at some point in Q1 makes sense. An 8-10% pullback would be healthy in a new business cycle and would make more sense in Q1 2021 than happening right now.
Why is that? Because every other analyst note and TV commentator is saying to be cautious in the near term due to sentiment, case count, IPO euphoria, etc. Anywhen everyone is expecting a pullback, you're less likely to get it.
On the other hand, if we melt-up into year-end (which we proposed as a possibility in our December 3, 2020 article), managers would be too busy chasing to focus on the correction and by Q1 – when "correction" leaves the daily narrative (and everyone starts saying "cash is trash" + TINA – There Is No Alternative – to equities), is when we are more likely to get the correction we need to consolidate huge gains off the March lows. Seasonality favors February, but who knows…
BofA's contrarian trades are long Energy/Staples and short Tech. I agree. This is not the way the market is positioned. In fact, it is just the opposite. In the past week, New York State set a goal to be 100% carbon neutral in their pension funds by 2040. Many others have followed suit.
So my question is, how will they reverse that underweight positioning and explain it to their pensioners when the sector doubles and they under-perform their benchmarks – requiring additional contributions from taxpayers and municipalities to fund the shortfall? Sure, Energy is a small weight now (and that's what managers are banking on to ignore it), but when it reverts back to a double-digit weighting (in the S&P 500) over the next 3-5 years, how will these managers deal with it?
There are no atheists in the fox hole…perhaps they'll have to find religion once again – just as they did from 2003-2007 when the sector gained >300% off its last depression period…
In out October 15 article, we put out the following chart – when XLE was at $30.52:
(Click on image to enlarge)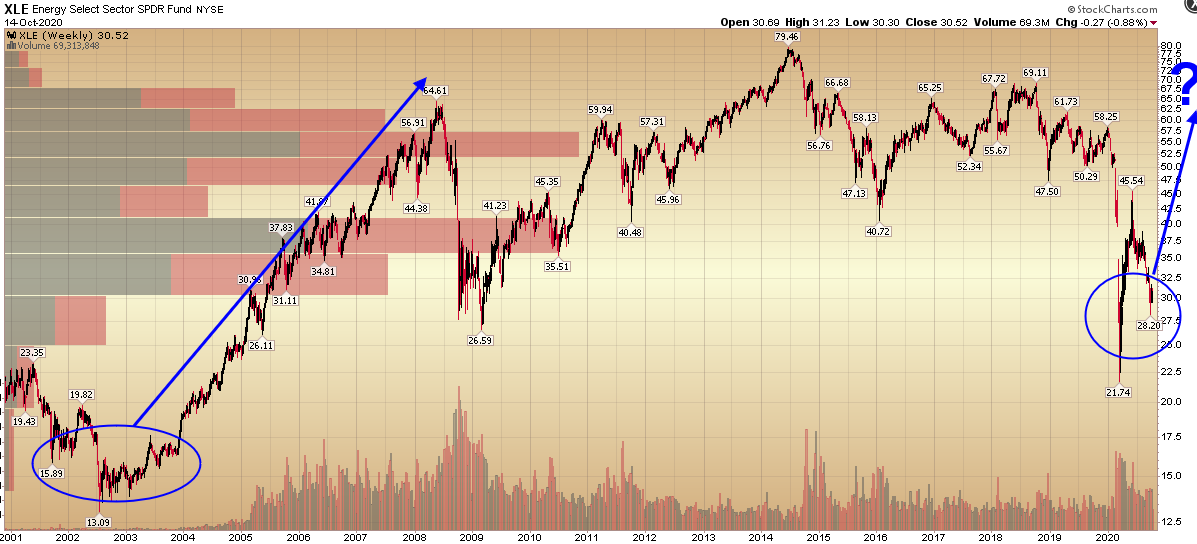 How it's going since:
(Click on image to enlarge)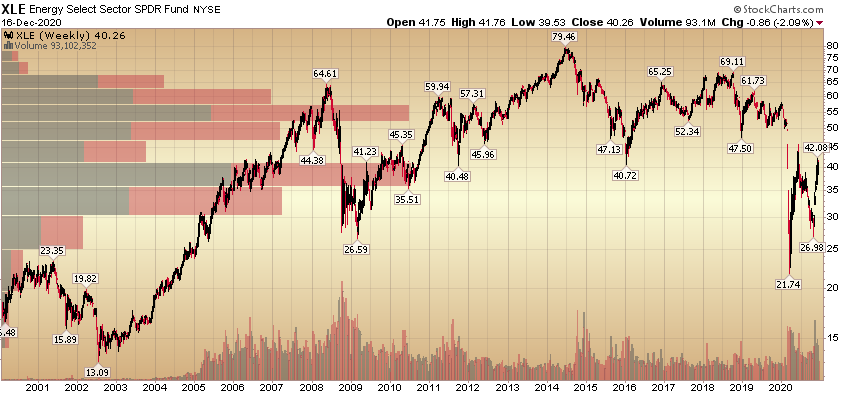 The Energy Sector rose >37% in the past two months since that article. Some names are up over 50% or more. We believe it's just the beginning of a 3-5 year commodity cycle and those who dismiss the sector based on its current weighting will be left behind (their benchmark).
Disclaimer: Not investment advice. For educational purposes only: Learn more at HedgeFundTips.com.