The Brexit Is Real: Sell These 3 Stocks Now
In somewhat of a shocking move, Great Britain has voted to leave the European Union. The Brexit is officially real.
This will be the first time ever that a company has left the EU and one of those "worst case" scenarios for the markets. All of which comes at a time that we are already on unsteady footing – as economic growth expectations remain tepid and gold continues to soar.
The selloff we saw on the Brexit day could just be the beginning. This will be a relatively long and drawn out process; we'll have negotiations that could take years, and, ultimately, this could push Britain into a recession. Over half of Britain's exports are to other EU countries, so they're alienating a huge part of their economy.
But the dominoes could just be starting to fall. The Brexit will likely lead other countries, including Spain and France, to hold their own exit votes. So now you're going to have a slowdown all across Europe.
So while many investors were going on the offensive last week, looking for buying opportunities, the prudent move is to be on the defensive.
With that in mind, here's how I'm thinking about playing the Brexit: Selling US companies that generate a lot of revenue from the UK.
The key is that these types of companies, which are doing big business in Britain, will have to convert their revenues from British pounds to US dollars. With the Brexit, the pound to dollar exchange rate is at its lowest level in more than 30 years and should continue to go lower.
Thus, it's two fold; one, a continued slowdown in the Britain economy that will hurt revenues, while a weakening currency will mean companies get even less when they convert their money to US dollars.
Here's the top 3 stocks I'm selling today on the Brexit news:
Top Brexit Stock To Sell- No. 1: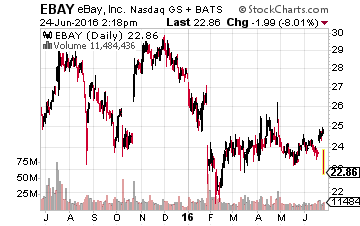 eBay (NASDAQ: EBAY) eBay generates over 15% of revenues from Britain. When coupled with the risk from Amazon.com (NASDAQ: AMZN) taking market share, eBay is an easy sell.