The Best Travel Stocks To Buy: Airbnb Or Hotels?
The travel recovery is coming, and it's going to be explosive.
As the pace of COVID-19 vaccinations continues to accelerate, demand for travel-related services is growing. People are going to want to get out and about once again.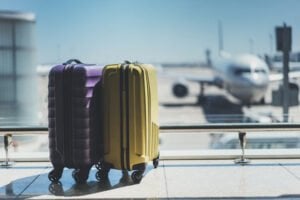 It will be a much-needed relief for the travel industry.
Travel spending in the United States dropped by 42% in 2020 as people stayed home because of COVID-19 restrictions. According to the U.S. Travel Association, the travel industry lost $1.6 billion a day from the first of March until the end of 2020.
A lot of the pain from the pandemic fell on the hotel and lodging companies. Hotel occupancy averaged just 44% in 2020, and revenue per available room was 48% lower than in 2019. Not only were those the largest year-over-year declines ever, but they were also all absolute lows in dollars since records started being kept.
In other words, there's nowhere left for the industry to go but up. Investors are right to target these rebound stocks.
One of the most intriguing debates among investors is whether Airbnb stock or hotel stocks are a better play here.
Airbnb offers the tantalizing growth of a startup, while hotels are tried and true businesses. The pandemic hurt each business in unique ways, and their recovery could be different too.
To help you find which travel stock makes the most sense for your money, we're digging into Airbnb, Marriot, and Hilton to see which of these makes the best stock to buy…
Airbnb Stock or Hotel Stocks
The question many investors are asking right now is which stock to buy. Should they buy Airbnb Inc. (Nasdaq: ABNB) or one of the leading hotel chains like Hilton Hotels Corp. (NYSE: HLT) or Marriot International Inc. (NYSE: MAR) to profit from the travel recovery boom we should see in the second half of 2021?
Back in late March and early April, the survival of Airbnb was in question. If not for about $2 billion in equity and debt investments from institutional and private equity firms, it is unlikely the innovative lodging company would have survived.
Disclaimer: Any performance results described herein are not based on actual trading of securities but are instead based on a hypothetical trading account which entered and exited the suggested ...
more