The 3 Safest Stocks To Buy In 2020
The markets continue to rally as investors cheer news that the U.S. economy will reopen in parts of the country this week.
Starbucks Corp. (NASDAQ: SBUX) announced its plans to open its doors to more than 85% of its retail locations. Fiat Chrysler Automobiles NV (NASDAQ: FCAU) announced that it will soon restart production after a $1.8 billion loss fueled by the shutdown.
Despite the optimism, a sea of uncertainty remains about the health of the economy.
The U.S. Labor Department could report on Friday that the unemployment rate surpassed 16% in April. Consumers remain guarded about the threat of COVID-19 as they venture out. And some sectors like hospitality, airlines, and retail face steep challenges through the balance of 2020.
With that in mind, we have to be conservative in our selections of stocks in the month ahead.
Today, we're looking at the three safest stocks to own right now. But these aren't just stocks that will return 1% or 2% gains. These stocks all have tremendous profit potential, while still being "safe" buys…
Safest Stocks to Buy, No. 3: Alphabet Inc.
Last week, Wall Street warned that Alphabet Inc. (NASDAQ: GOOGL) and other FAANG stocks would struggle in the face of COVID-19. But companies like Alphabet have proven that they are largely immune to the pandemic.
The "stay at home" orders didn't have the impact that many had anticipated. While the firm did report a slowdown in advertising revenue growth, its cloud revenue and YouTube revenue helped pump the stock higher and alleviated concerns about the firm's ability to weather this storm. In fact, YouTube advertising revenue increased 33% year over year.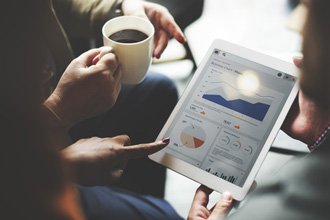 Looking ahead, the company has promised to cut marketing budgets, hike its buybacks, and seek new avenues of growth. But given that more companies recognize the importance of an online presence, we anticipate that the firm will benefit from the further digitalization of the American economy.