The 3 Best Tech Stocks To Buy In A Post-Vaccine World
If you've been following the logic of the markets lately, it's telling us a coronavirus vaccine is bad news for tech stocks.
The Dow rallied over 1,000 points on the news that Pfizer Inc. (NYSE: PFE) has announced its COVID-19 vaccine is more than 90% effective. But the tech-heavy Nasdaq is down 2% on the week.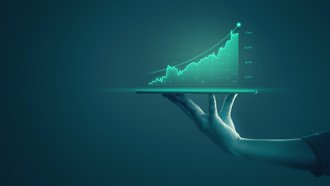 Many stay-at-home stocks like Zoom Video Communications Inc. (NASDAQ: ZM) and Peloton Interactive Inc. (NASDAQ: PTON) stumbled on the news and are down double digits on the hopes of returning to normal life. Zoom plunged over 25% by mid-week.
Many have compared the current run in tech stocks to the dot-com bubble. Excessive speculation on Internet companies drove share prices up until the market peaked in early 2000, and then the whole thing came crumbling down.
I'm here to tell you this is not the case today. Far from it. And it's giving us the opportunity to invest in some of the best tech stocks on the planet for absurd discounts.
The reality is many tech companies are rapidly growing businesses across a wide range of industries, many of which are displacing older technologies and will persist long after we have a vaccine. Trends that had already started before the pandemic have only been accelerated and will continue to do so far into the future.
When I think about the trends, I like to take a step back and think about what companies are creating a fundamental change in how we live our lives and how we do business.
For example, I believe companies like Chewy Inc. (NYSE: CHWY) and DocuSign Inc. (NASDAQ: DOCU) will continue to prosper. Chewy, an online retailer of pet food and other pet-related products whose stock is up almost 200% since the start of the pandemic is taking advantage of a shift in consumer preference. With stores closed across the country, it's understandable why the company has done so well. Even better, now that the economy is opening back up, I can't see why these customers would ever go back to the store.
Why would you want to carry around a 30-pound bag of dog food when you could get it delivered right to your door? With pet owners rarely changing brands, this type of investment makes sense.
It's the same story with DocuSign, a company providing electronic signature services. This company really showed its true colors during the pandemic as anyone signing a mortgage or any kind of legal document needed this. Now as the economy is opening back up, many have realized the convenience of signing online versus pen and paper. No more printing, faxing or traveling to an office when you can do it all on your phone or computer.
In short, you should look for a lasting effect when investing in tech.
That's why I'm looking at these three tech stocks that are taking over their industries.
These aren't flashes in the pan. And they certainly aren't going away because there's a coronavirus vaccine.
This E-Commerce Stock Is the Amazon of Southeast Asia
Sea Ltd. (NYSE: SE), while not as well-known as Amazon.com Inc. (NASDAQ: AMZN), is currently my favorite e-commerce stock. And just like Amazon, it has its hands in other businesses as well. It has SeaMoney, a digital wallet and fintech platform, and Garena, one of the fastest-growing gaming companies.