The 3 Best Penny Stocks To Buy In July Have 400% Upside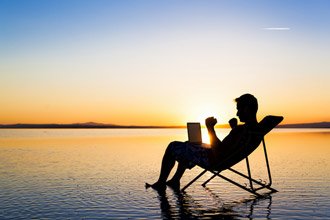 The world is going digital, and Pitney Bowes is going right along with it. It is transitioning to the world of e-commerce and expanding its financing business beyond equipment financing into global payment solutions. It has also moved into the data business, offering clients critical information about their customers and potential customers.
Management has made all the right moves. They opened new distributions centers on both coasts. As those centers reach full capacity, the cost savings should blow profit margins to 10% or more from the current breakeven levels. Their global e-commerce business is growing rapidly. Debt is being refinanced or paid down, and that is going to add to the bottom line.
That's a great story for this company and a reason for investors to back it, but the reason we're keying in on this company as a July breakout candidate is that it was swept up in panic selling in June.
The stock has been hammered by the pandemic and now trades below $3. This was a $10 stock at the start of June, and it's easy to see it shooting back to that mark and higher once investors buyback in this July.
This Penny Stock Is Cashing In on Work from Home
BGC Partners Inc. (NASDAQ: BGCP) is a leading global brokerage and financial technology company. BGC's offerings include fixed-income securities, interest rate swaps, foreign exchange, equities, equity derivatives, credit derivatives, commodities, futures, and structured products. Its business has been excellent with the first quarter showing robust revenue growth.
The work from home phenomenon is partly to thank for its growth. Its fully electronic trading services are continuing to experience high growth rates as professional traders look for digital solutions in this environment.
The stock got smashed in the early stages of the COVID-19 sell-off. Traders were concerned that trading volumes would drop as the market fell. The Fed rode in to save the day, but BGC is a partnership and is not in any of the indexes that investors flocked to buy. As a result, the shares have not recovered along with the market.