That Wasn't Much Of A Down Day...
Technically, the Dow and S&P snapped their 7-day winning streak.
Technically.
I hardly consider a decline of 0.03% and 0.11% for the Dow and S&P, respectively, a down day.
Meanwhile, the Nasdaq and Russell saw a record close for who knows how many consecutive days.
Can the market keep this up? Who even knows anymore. Everything seems to defy expectations and logic. Yeah, it's possible. But I'd be surprised if we don't see at least one sharp pullback before the end of the week.
The sentiment is surely rosy right now. The economic recovery appears to be gaining steam, and the Q1 decline everyone predicted might not be as swift as we anticipated- if at all. President Biden's stimulus could officially pass within days as well and provide much-needed relief to struggling businesses and families.
Have you seen the vaccine numbers lately, too? More people in the U.S. have now been vaccinated than total cases. On Monday (Feb. 8), vaccine doses outnumbered new cases 10-1. New daily COVID cases have also reached their lowest levels since October.
With Johnson and Johnson's (JNJ) one dose vaccine candidate seemingly days away from FDA approval, the outlook is certainly more positive at this point than many anticipated.
But we're not out of the woods yet, and three non-pandemic related factors still concern me- complacency, overvaluation, and inflation.
Jim Cramer's "Seven Deadly Sins" from Mad Money Monday night (Feb. 8) reflect many of my concerns too: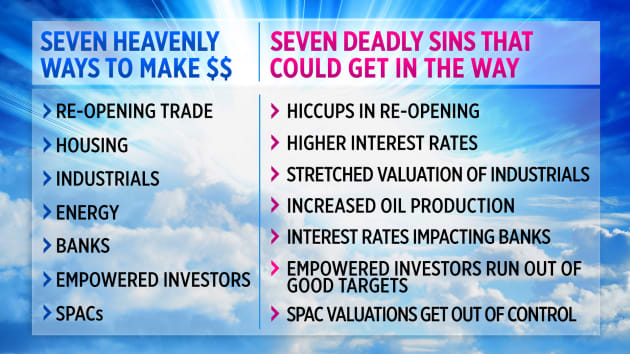 Source: CNBC
Yes, I know I keep saying to beware. I also know that earnings are on pace to rise by over 20% in 2021. Since 1980, only 12 years have earnings increased by 15% or more. Except for 2018, the market gained an average of 12% in all of those years.
But consider some valuation metrics that scream "bubble."
As of February 4, 2021, the Buffett Indicator, or the ratio of the total US stock market valuation to the GDP, was at a level not seen since the dotcom bubble. If you take the US stock market cap of $48.7 trillion and the estimated GDP of $21.7 trillion, we're nearly 224% overvalued and 84% above the historical average.
Disclaimer: All essays, research, and information found above represent analyses and opinions of Matthew Levy, CFA and Sunshine Profits' associates only. As such, it may prove wrong and be ...
more