Tesla SWOT Analysis
Strengths
Tesla's collection of strengths allows the company to stand above the competition, which can be a long-term driver for their success.
Strong brand image - a brand that consumers aspire to.
EVs with longer range capabilities as compared to the competition (some of Tesla's models can achieve over 300 miles on a single charge, while the Nissan Leaf gets 150 miles to 226 miles, the Chevy Bolt gets 238 miles, the Jaguar i-Pace gets 234 miles.
Eco-friendly product - appeals to environmentally-sensitive consumers.
Leader in EVs - Tesla has the highest revenue growth as compared to other automakers.
Supercharger network of charging stations makes charging easier and more convenient for Tesla owners.
Elon Musks' engineering expertise and vision keeps the company's technology on the cutting edge.
The company's strong engineering and vision for innovative earth-friendly products with high performance appeals to environmentally-conscious consumers.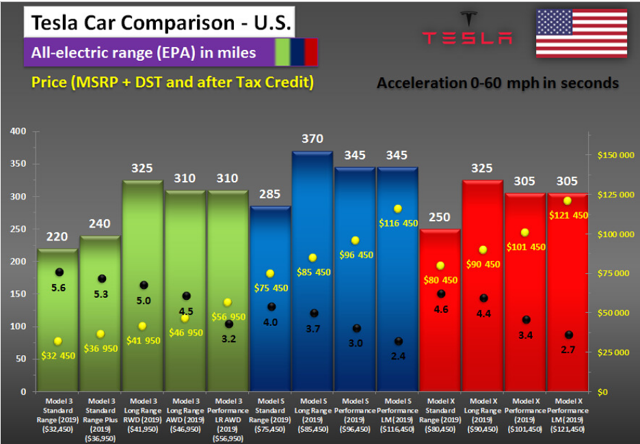 source: insideevs.com
Weaknesses
Tesla's stock should be considered risky and speculative as a result of some of the company's weaknesses, which can have a large impact on their ability to remain solvent.
Tesla spends large quantities of money for research & development [R&D] and production, leading to net losses.
Weak balance sheet: negative working capital (current liabilities are higher than current assets) - could slow growth and puts the company at risk of default.
Elon Musk's unpredictable behavior (questionable tweets, questionable company claims) could be a turn-off for some investors and puts the company at risk of SEC scrutiny.
The company is challenged to profitably produce EVs that price-conscience consumers can afford.
Tesla lost its recommendation from Consumer Reports for the Model 3 as a result of issues with door handles, cracked windows, loose interior trim/ molding, and paint defects.
Supply chain limitations - had to use employees to volunteer to deliver vehicles to their customers.
Production challenges - Model 3s were built in a tent to reach production goals in 2018.
Disclosure: I'm long the ARKW ETF which currently has a 10.8% position in Tesla.

I contribute to Kirk Spano's