Tesla Stock Price Prediction For 2025
The five-year outlook for Tesla Inc. (Nasdaq: TSLA) is bullish, and the reason might surprise you.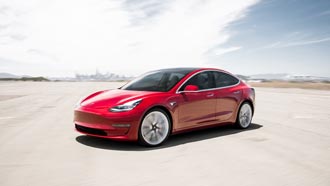 Yes, the Tesla cars are great, the branding is great, and the company has managed to infiltrate foreign markets with ease. But its greatest advantage in the EV market is yet to be tapped.
Be warned: It just might get a little worse before it gets better.
Though Tesla has done well flexing its product, we're looking at a sea of legacy car companies trying to get in on the action. Ford Motor Co. (NYSE: F), General Motors Co. (NYSE: GM), Toyota Motor Corp. (NYSE: TM), Fiat-Chrysler Automobiles (NYSE: FCAU), and many other companies abroad will release EV models over the next five years.
That means Tesla will need to innovate like never before if it wants to compete.
The good news is that it can, though it must act quickly to maintain global dominance.
Here's what is happening with Tesla today, and what it means for our Tesla stock price prediction for 2025.
Tesla Stock Price Prediction for 2025
A few things need to happen for Tesla over the next few years if it wants to get a leg-up.
According to Ark Invest, if everything goes well, it would send the Tesla stock price as high as $3,000 by 2025, a 370% target.
That is, of course, the ultimate Cinderella scenario. But we agree with it – here's why.
The bull case requires Tesla to outdo its competition in the autonomous vehicle space. The company would have to scale internationally. It would also need to expand its portfolio and vertical integration – that is, expand its solar holdings and insurance offerings.
Hopefully, Tesla will also be mining its own lithium by then.
It's a heavy order, sure. But if Tesla does not accomplish these things, the bearish growth target from Ark is $1,500. That's still a 140% target; however, it will have less of a compounding effect if Tesla does not aggressively expand in the above ways.
Disclaimer: Any performance results described herein are not based on actual trading of securities but are instead based on a hypothetical trading account which entered and exited the suggested ...
more