Tesla Plunges After Rare Earnings Miss, Lack Of Guidance
Stock split? Check. Inclusion in the S&P500? Aggressive rollout in China? Check. Check. 500,000 deliveries? (Almost) Check.
Heading into its Q4 earnings release, it appears that Tesla is almost out of surprises even though its stock has continued to rise precipitously, and just a few days ago it rose just shy of $900.
(Click on image to enlarge)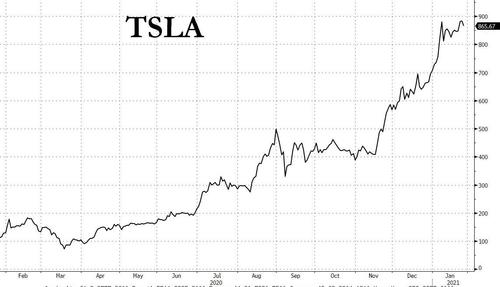 The one thing investors were looking for is to get confirmation that Tesla would report its first full-year profit, a milestone powered by record vehicle deliveries in the face of a global pandemic and a growing appetite for electric cars. As a reminder, the EV maker delivered just under half a million vehicles last year, up more than a third from a year earlier, even as world-wide auto sales plunged roughly 14%, according to researcher LMC Automotive.
In order to get into the S&P, Tesla delivered quarterly profits - in large part funded by selling regulatory credits - during the pandemic despite the temporary shutdown of the company's lone U.S. car plant because of the health crisis. To manage the impact, Elon Musk battled with local authorities to reopen the factory, temporarily reduced salaries, furloughed workers and sought rent breaks. Later in the year, he tested positive for Covid-19 as the WSJ reminds us.
Wall Street expects Tesla to generate around $1.3 billion in 2020 annual profit when the company on sales of about $31.1 billion. That compares with an $862 million loss in 2019 on sales of $24.6 billion. For the 4th quarter, Wall Street forecasts Tesla will report a record quarterly profit of around $746 million up from $105 million a year earlier. Sales for the October-December quarter are expected to be roughly $10.5 billion, up around 40%.
Tesla has benefited tremendously from growing electric-vehicle demand in China, where the company began delivering locally made vehicles in 2019. The company has expanded production capacity at its Shanghai facility and this month delivered its first made-in-China Model Y sport-utility vehicles. That said, the company faces mounting competition from legacy auto makers such as General Motors and Ford Motor and a fleet of startups that are developing their own plug-in models, including in China.