Tesla – Great Cars, Perhaps Great Company But Very Scary Stock
Therefore, and to summarize, Tesla has been raising a lot of capital even though they are diluting shareholders, they are selling their shares at extremely high prices. As a result, they are raising a lot of money they can utilize to continue to develop and grow their business. Tesla's cash balance at the end of 2019 was $6.51 billion.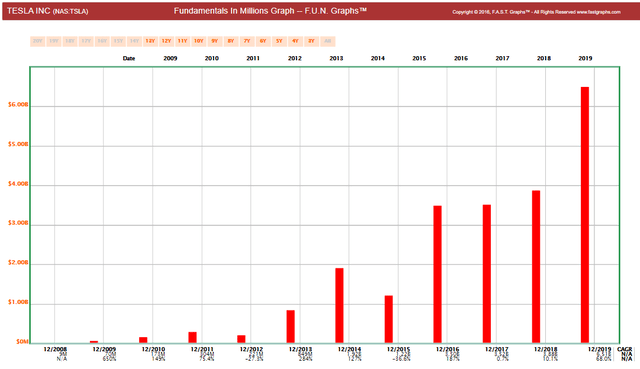 (Source FAST Graphs)
Fast forward through the end of the 3rd quarter of September 2020 and Tesla's cash balance stands at $14,705,000,000. In short, Tesla has many plans and opportunities to grow, add, and expand their businesses in the future. Most importantly, currently they also clearly have the cash resources available to fund their many initiatives. Nevertheless, I do believe that Tesla does have to find a way to profitably sell their automobiles without relying on ZEV credits as discussed above. Tesla is finally making some money. However, their record remains spotty and inconsistent as evidenced by the operating earnings results the company has generated over the last 12 operating quarters as seen below: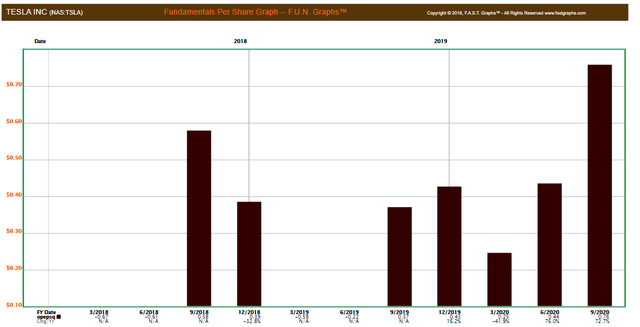 (Source FAST Graphs)
FAST Graphs Analyze Out Loud Video: Tesla By The Numbers
Video length 00:16:53
Summary and Conclusions
I do want to be clear that I consider Tesla to be a great company founded by and run by a smart, aggressive, and even impressive founder and CEO Elon Musk. Moreover, I do believe that Tesla has a long and bright future ahead of itself. Consequently, I would love the opportunity to someday become a passionate long-term investor in this great company. However, as Mr. Valuation, it is crystal clear to me and many others, that Tesla is currently trading at valuations that are not supported by the fundamentals.
Nevertheless, the stock has had and continues to have tremendous momentum since the middle of 2019. Frankly, that could continue for some time into the future. On the other hand, value investors – and all other investors for that matter – should be cognizant and fearful of becoming "greater fool investors." This simply means being willing to foolishly pay more (in Tesla's case much more) for a stock than it is worth solely on the basis that a fool greater than you will come along and pay you more.
I do believe that Tesla is a great growth story and will prove that over time. However, I also believe and recognize that you can pay too much to buy growth, which is where I believe Tesla shares currently sit. To restate what I posited in the article title: "Tesla Great Cars, Perhaps Great Company but Very Scary Stock." My test drive of the Tesla car was exhilarating, breathtaking, and incomparable to any car I had driven before. Nevertheless, I do not want my stock price ride to mirror that experience. Someday, I believe I will get my chance to invest in this great company. As a value-oriented investor, I am confident that day will come, and I am willing to be patient enough to wait for it no matter how long it takes.
Disclosure: No position.
Disclaimer: The opinions in this article are for informational and educational purposes only and should not be construed as a recommendation to buy or sell the stocks ...
more