Tesla – Great Cars, Perhaps Great Company But Very Scary Stock
To summarize and "bottom-line" this information, Tesla has yet to make money selling automobiles. I believe they will someday, but as previously stated, that is not today. What all this suggests is that there is risk with Tesla and its current lofty valuation that investors should at least be cognizant of.
Tesla Blended Price To Operating Cash Flow
Although I am a believer in utilizing all the valuation metrics at my disposal, one of my true favorites is valuation based on operating cash flow. As the old saying goes "earnings are optional, but cash is cash." In other words, earnings can be manipulated, but cash is simply counted. With that said, Tesla also appears significantly overvalued based on operating cash flow. Moreover, valuing Tesla based on cash flow provides a valuation reference of $98.81 (see pop-up's below) that is at least in the ballpark of JP Morgan's fair value estimate of $90.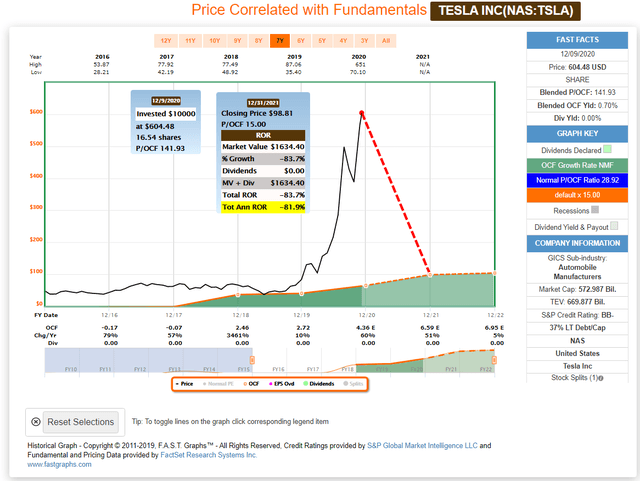 (Source FAST Graphs)
Tesla Normal Price to EBITDA
Another metric that I find quite useful is to evaluate a company based on its normal price to EBITDA. Keeping in mind that this following example represents the EBITDA multiple of 33.79 that the market has "most commonly applied" since the beginning of 2018, Tesla trading at a current blended P/E of 112.37 appears significantly overvalued. Here I would also add that I like valuing a business based on EBITDA because even though it is an earnings metric, it is in my view closer to cash flow than earnings. In other words, it is earnings before interest, taxes, depreciation, and amortization – which is pretty darn close to simple cash flow.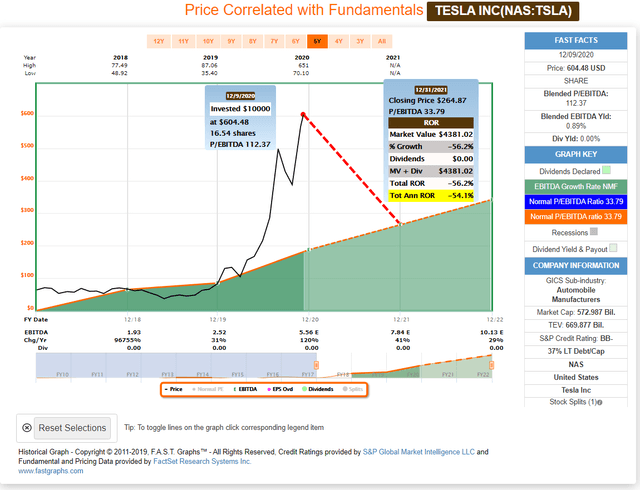 (Source FAST Graphs)
Tesla Consistently Diluting Shareholders
In addition to valuation risks, current and prospective Tesla shareholders should also be aware of the amount of dilution that the company has historically and is currently participating in. Common shares outstanding have increased at a compound annual growth rate of 5% from 467 million shares in 2008 to 885 million shares through December 2019.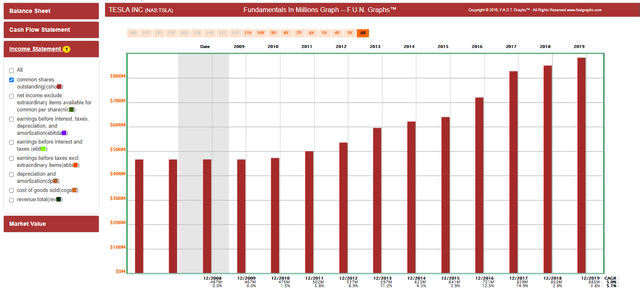 (Source FAST Graphs)
By September 2020, Tesla's common shares outstanding have further increased to 948 million shares.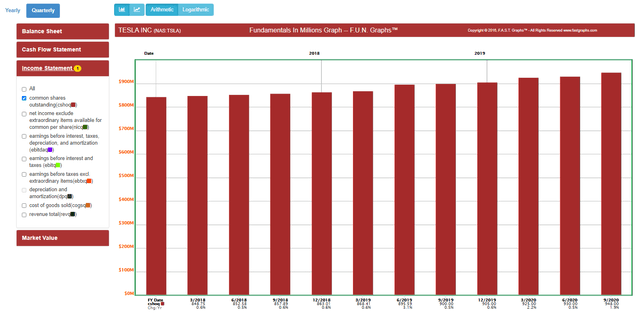 (Source FAST Graphs)
Furthermore, on Tuesday, December 8, 2020, Tesla announced up to a $5 billion additional capital raise. One thing that perhaps softens the dilution is the fact that many analysts consider these capital raises smart moves given the extremely high valuation that Tesla is selling their shares at. Additionally, the $5 billion capital raise will be an "at-the-market" offering. An article in Business Insider explained it as follows:
"An "at-the-market" share offering is different from a traditional equity share offering. Rather than selling a specific lot of shares at a pre-determined price in one fell swoop, an "at-the-market" offering allows Tesla to, at its discretion, sell bits and pieces of its stock directly into the market to raise up to $5 billion.
The at-the-market offering will allow Tesla to take advantage of recent volatility in its stock price and is beneficial in the sense that the offering could lead to less dilution than a traditional offering if Tesla is able to sell shares at favorable prices.
Tesla is not required to sell all or any of the $5 billion worth of shares, and the company will likely have at least a year to execute the offering before it expires."
Disclosure: No position.
Disclaimer: The opinions in this article are for informational and educational purposes only and should not be construed as a recommendation to buy or sell the stocks ...
more