Tesla – Great Cars, Perhaps Great Company But Very Scary Stock
Tesla's Valuation By The Numbers
In my experience, one of the most difficult messages that can be delivered to investors is suggesting that a favorite stock that is performing well is overvalued. Candidly, investors simply do not want to hear that message. Perhaps even more to the point, because the stock has performed so well, that represents all the evidence they need, that all is well. In truth, markets will significantly misappraise the value of a stock over or under from time to time.
That is an undeniable truth, and I want to be clear that I am not denying that Tesla has had an incredible run over the last year and a half. Moreover, I am not just talking about the price, Tesla's earnings and cash flows have also had an incredible run. Unfortunately, Tesla's recent strong operating performance simply does not justify the company's lofty valuation. And here I might add, this assessment includes the normal and often temporary rise in price that happens when a company initially becomes included in the S&P 500 as Tesla is.
Tesla Blended P/E Ratio
Tesla currently trades at a blended P/E ratio of 274.80. To put that into perspective, that is an earnings yield of only .36%. In other words, if you owned 100% of Tesla and the company paid you all its current earnings, you would only be making a return of .36%. Nevertheless, Tesla's stock price did rise from $83.67 on December 31, $2019 to $604.48 on December 9, 2020, that is a 622.5% gain for this year so far. Later in the video, I will show how earnings growth did provide some justification for that massive increase over the short run. However, the seminal question is whether (or not) that growth surge is long-term sustainable? Common sense suggests that it is not.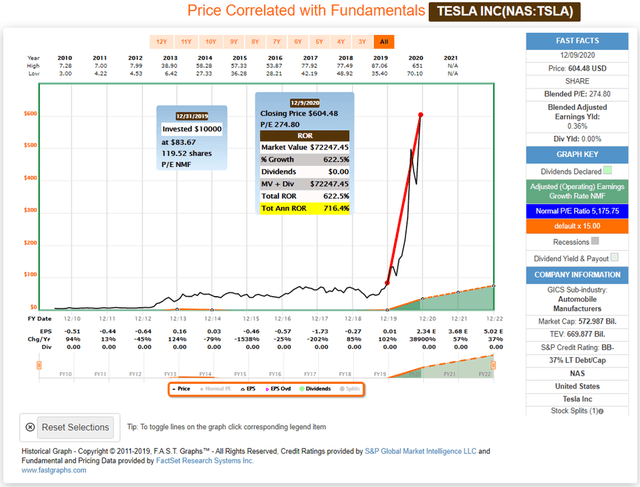 (Source FAST Graphs)
Importantly, in addition to lofty valuation, sensible investors should also consider the quality and makeup of Tesla's recent earnings improvements. In a recent Morningstar Analyst Note by David Whiston, Updated Oct 22, 2020, Tesla's third-quarter earnings were reported as follows:
"Tesla reported a good third quarter with adjusted diluted EPS of $0.76 beating the Refinitiv consensus of $0.57 and up from $0.37 in the third quarter 2019."
At first glance, these numbers look very impressive. However, an article in the publication Driving on September 29, 2020, titled "Motor Mouth: Tesla's real business model needs a reality check" pointed out the following concerning information:
"Yes, I know the Teslarati are celebrating yet another quarter of profitability — its fourth in a row, the electric vehicle media machine never forgets to remind us — but the fact remains that Tesla has never made money on the cars it sells. Judged only by how much money it makes retailing Model S, X, Y and 3s compared with how much money the company has spent to produce those cars, Tesla is still in the red. In fact, the only reason it can now claim seven quarters of profitability — besides the last four, Tesla was in the "green" for Q3 and Q4 of 2018 as well the third quarter of 2016 — is because of all the money it generates from something called zero-emission vehicle (ZEV) credits."
Zacks Investment Research added this additional commentary on ZEV credits:
"Tesla's excessive reliance on credit sales remain a concern. Importantly, revenues from regulatory credit sales have been outpacing the GAAP income over the trailing four quarters. In the absence of $397 million worth of regulatory credit sales during the last reported quarter, Tesla would have posted a net loss of $66 million. Over the past two quarters, Tesla posted a net GAAP income of $435 million. Without the regulatory credit sales, the firm would have incurred a loss to the tune of $390 million."
Disclosure: No position.
Disclaimer: The opinions in this article are for informational and educational purposes only and should not be construed as a recommendation to buy or sell the stocks ...
more