Ten Clean Energy Stocks For 2019: Pattern Buyout, Analyst Downgrades
Although valuations and political uncertainty have me spooked, October was another strong month for the stock market in general and clean energy income stocks in particular.
While my broad income stock benchmark SDY added 1.6% for a year to date total gain of 19.6%. My clean energy income stock benchmark YLCO did even better, 2.7% for October and 29.7% year to date. The 10 Clean Energy Stocks model portfolio fell somewhere in between for the month (up 1.8%) but remains unchallenged for the year to date (40.7%). My real-money managed strategy, GGEIP, lagged as I reduce market exposure in what I consider an increasingly risky market (as discussed last month). GGEIP was up 1.0% for the month, and 35.0% year to date.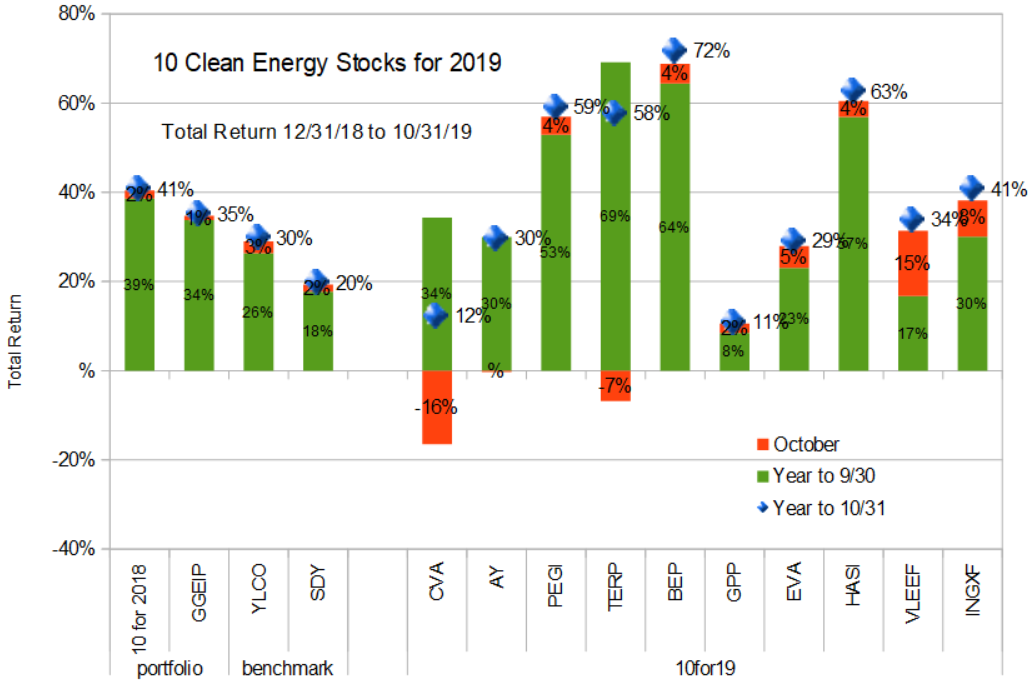 Individual Stocks
Analyst Downgrades, Sudden Stock Moves
The most notable stock move of the month was Covanta Holding Corp's (NYSE: CVA) 16% decline. This started on October 22nd, when Raymond James warned that the company's earnings would be impacted by the weak commodity market. The analysts like the company's long term prospects, but reduced their rating from "Strong Buy" to "Market Perform" based on expected near term weakness. Sure enough, the company reported weakness in commodity prices in its third-quarter earnings. After earnings, BMO cut its price target from $19 to $18, and UBS cut its from $17 to $15.50.
With the stock trading below $15, I see this as one of the few buying opportunities in the stock market today and added to my exposure by selling cash covered puts with strike prices of $12.50 and $15. I think the large sell-off is symptomatic of increasing investor nervousness. We also saw a similar sell-off in Yieldco Clearway (CWEN, CWEN-A) based on analyst downgrades.
It feels to me that investors are looking for an excuse to sell, causing the market to overreact to analyst downgrades. Regular followers of this blog, in contrast, will likely have already trimmed their holdings as the stocks rose, and so should remain unphazed by these sudden swings in sentiment. If you have not been trimming your holdings in your biggest winners, you probably should be. Hannon Armstrong (HASI), Terraform Power (TERP), and Brookfield Renewable Energy Partners (BEP) are all stocks in which readers should be considering taking some profits if they have not already. I continue to think these three stocks are all ripe for price corrections.
Disclosure: Long PEGI, CVA, AY, TERP, BEP, EVA, GPP. INGXF, HASI, FR.PA/VLEEF, CWEN-A.
Disclaimer: Past performance is not a guarantee or a reliable indicator ...
more