Ten Clean Energy Stocks For 2019: Marginally Hotter
July 2019 was "marginally" the warmest month on record. Meanwhile, the stock market was also inching to new highs, and the real, sweltering evidence of climate change continues to let clean energy income stocks turn in a blistering performance.
While my broad income stock benchmark SDY was up 16.0% through the end of July (0.9% for the month), my clean energy income stock benchmark YLCO is up 23.4% through July (0.4% for the month,) My 10 Clean Energy Stocks model portfolio is up 28.3% (1.3%) and my real-money managed strategy, GGEIP, is up 26.4% (1.2%) for the year through July 31st (for the month).Like the temperatures, all of these are marginal new highs.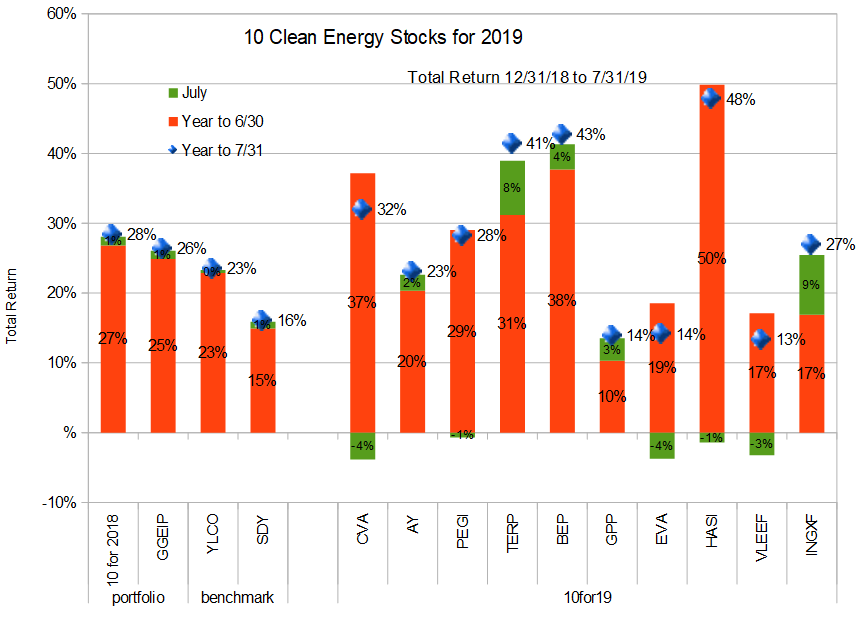 While I'm not pleased (or surprised) at the Earth's continued warming, I am pleased that my worries about an overheated stock market leading to a chilling bear market have not yet been realized.Nor am I particularly surprised that the Bear has not yet pillaged our stock market dumpster. My worries are that the risk of a bear market is high, not that it will arrive this month or next.But it will arrive eventually, with little warning, and right after its delay has lulled as many investors as possible into complacency.
I continue to slowly increase my cash position as I take profits on many of my stocks hitting new highs.
Individual Stocks
Second quarter earnings season has begun, and here is a quick run-down of earnings on the stocks in the model portfolio that have announced so far.
Covanta Holding Corp (NYSE:CVA) announced earnings on July 25 and adjusted its guidance downward. Operationally, the company is on track, but weakness in the scrap metal markets and electricity markets led it to reduce its expectations for Earnings Before Interest, Depreciation, and Amortization, while maintaining cash flow guidance.
The stock briefly sold off by a dollar (allowing me to marginally increase my position by selling cash covered puts at an attractive price) before recovering partially over the following week. Since I have no concerns about Covanta's long term prospect, this is one stock I am not selling and may sell a few more cash covered puts if the volatility continues to the downside.
Disclosure: Long PEGI, CVA, AY, TERP, BEP, EVA, GPP. INGXF, HASI, FR/PA/VLEEF.
Disclaimer: Past performance is not a guarantee or a reliable indicator of ...
more