Target Stock Price Bullish Run Continues Ahead Of The Q2 2021 Earnings Call
Target (TGT: NYSE) is about to release its second-quarter earnings tomorrow. The stock price is up over 90% in the last 12 months, and the technical picture suggests more upside possible.
Target stock price is on a tear higher in 2021. The general merchandise retailer from the United States enjoyed a strong performance during the pandemic. Ahead of the Q2 2021 earnings, the market expects EPS of $3.53 to be announced, higher by 4.49% compared to the same period last year.
If we judge by the fact that Target has beaten estimates for the past consecutive quarters and that most of the U.S. companies have beaten their quarterly estimates this season, the chances are that we will see a positive surprise tomorrow, too. As such, from a fundamental perspective, the bullish bias persists.
Target stock price is up +92.74% in the last 12 months and +49.07% in 2021 alone. Target is a dividend-paying company with 58 years of dividend growth history and a dividend yield of 1.37%.

Target Stock Price Technical Picture Suggests Further Upside
The technical picture is still bullish and complements the strong fundamentals behind the Target stock price. After the market broke above the pivotal $200 level, it did not look back anymore.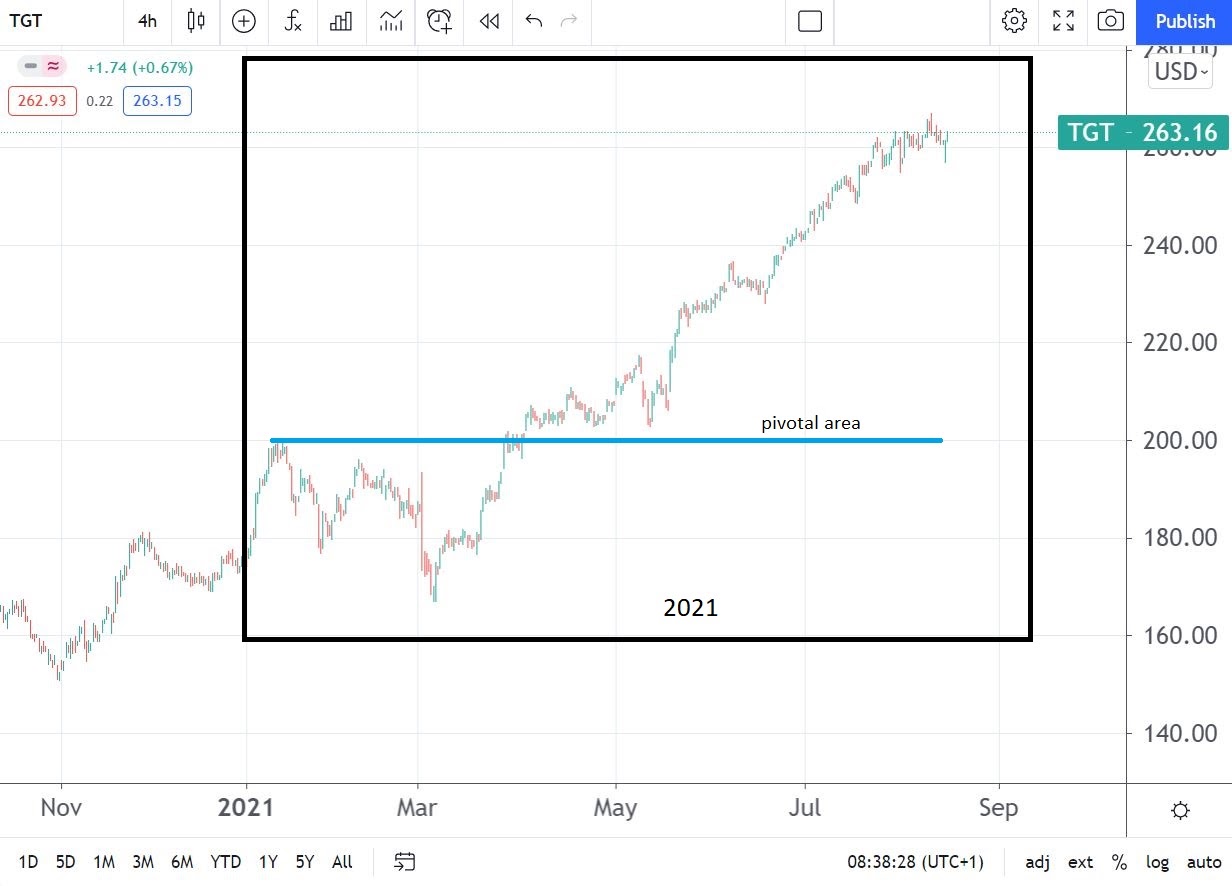 As long as the series of higher highs and higher lows continues, Target's stock price remains bullish. Only a drop below $240 would spoil the bulls' party.
Analysts are bullish on the Target stock price. Out of the 59 analysts covering the stock, 39 have buy ratings, 19 have neutral ratings, and only 1 has issued a sell rating.
The highest price for Target stock price is seen at Deutsche Bank and Telsey Advisory Group. They both maintained their buy recommendation, with a target of $305.
Disclaimer: None of the content in this article should be viewed as investment advice or a recommendation to buy or sell. Past performance/statistics may not necessarily reflect future ...
more