Surge Holdings: The Unknown Story Of High Potential Growth
Invest in tranches. You can always add more investment dollars as they roll out their plan effectively. If they are hitting their growth targets over the next 3–6 months, you can add more to your investment. You may choose to break your investment into 4 chunks. Invest every 3 or 6 months provided they are executing according to plan.
With the disclaimer that past financials are not the key elements we want to focus on, let's look at a few reported figures for Surge Holdings: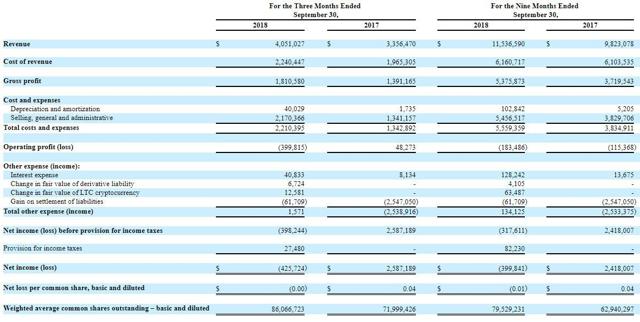 Based on the above, I estimate that revenue for 2018 should be $16 million or more. Now, assume that we use the Nasdaq Financial Technology Index median price-to-sales ratio of 4.72. The stock should be trading at 87 cents while discounting much of the future growth potential.
Based on the numbers above, I estimate gross profit to be around $7.2 million for 2018. This also gives a current share price valuation of 80 cents when using a 9.55x multiplier.

The first numbered column below is trailing 3 months and the next is trailing 9 months. Both periods end in September 30th, 2018. The company is cash flow positive when combining flows from all sources, and they had expected to be cash flow positive operationally by the end of 2018 according to this quote found in the last quarterly report of 2018.
The Company projects that it should be cash flow positive by the end of fiscal year 2018 from ongoing operations by the combination of increased cash flow from its current subsidiaries, as well as restructuring our current debt burden.
While this doesn't provide us with share price valuation, being cash flow positive is an important factor that I look for in companies. It means they currently have a sustainable business model. But Surge has no interest in staying dormant. They want to rapidly grow, and they have already laid the groundwork to do so. But all that preparation work comes at a cost. Feasibility surveys and expanding operations before the high potential growth of 2019 costs money that isn't supported by an increase in revenue…yet.
An example of this is found with an increase in Selling, General and Administrative costs. Total selling, general and administrative expense (SG&A) increased $829,208 from $1,341,157 in 2017 to $2,170,365 in 2018. The big items were related to an increase in consultant fees, web-hosting and internet costs, professional fees associated with the merger and advertising costs.

What is my personal opinion as to what the share price is worth based on future prospects? With the high-growth potential and the risks involved, I feel that a share price between $1.00-$2.00 is not unreasonable. That price should go up or down as more announcements are made and as their milestone targets are hit or missed. But that is me. You do what is best for you.
The big number that I want to track is not revenue or gross profit. That will come later. The big number that I am focusing on is the number of stores which adopt the SurgePays Portal. Remember that getting into the stores is the first step. Yes, revenues will increase as stores come online. As the number of stores using the portal go past the point of critical mass – the SurgePays Portal will be incredibly valuable as discussed earlier. Watch the number of stores using SurgePays very carefully!
Of course, each person will need to calculate their own risk to reward scenario and price it accordingly. But these are the numbers that I feel comfortable with based on my knowledge today.
What About The Risks?
Pretty much all smaller sized firms rolling out new services and products face the challenge of funding growth. Outside investments are typically needed to scale operations and to market products. For Surge Holdings to rapidly grow, they will require outside investments. If any Venture Capital firms are reading this, I would seriously contemplate the opportunity this presents. Surge Holdings should hopefully have no issue accessing that capital given the upside potential. Getting access to investment capital is a risk common to most high-growth companies of very small market cap.
But why isn't Surge spending their time building up True Wireless, which contributed over 85% of Surge's revenues in 2018 (first 9 months), and simply fund themselves? True Wireless will likely be replaced by the non-government subsidized SurgePhone Wireless. Thus, it makes little sense for Surge to focus on building up their current main revenue driver of True Wireless when it will likely be transitioned out with a better service later. Diverting their attention from future growth would be a grave mistake in my opinion.
It is worth noting that the company is cash flow positive. This means that any institutional investment can be used to directly fuel future growth prospects. Investors must also keep in mind that some dilution will be necessary as investment capital is taken in.
There are other risks that I have already highlighted such as if consumers do not embrace these products. There is always risk. You should know and accept these and other risks before investing. How do you minimize these risks?
Monitor the stock closely.
You should absolutely be keyed into the stock and follow press releases to see if they are hitting their milestones and if growth is inline with expectations. What sort of milestones are we talking about?
Target of 40,000 stores by end of 2019
Track the wireless subscriber growth (scaled by # of locations offering plans)
Average sales per store (will likely take 6-8 months to start seeing bigger numbers as larger manufacturers have more incentive to approach Surge with a presence in 20,000 stores versus 1,500 stores)
Another way to mitigate risk is to scale your investment size accordingly. Even if you think that this is the next Amazon, it would be unwise to go 'all in'. Some suggest investing 5–10% of your overall portfolio in speculative investments. And you might further break that up between a few speculative stocks.
Summary
Surge Holdings is a virtually undiscovered company with high growth potential. They have designed a distribution portal that will hopefully be deployed across the US in a potential 40,000+ stores by the end of 2019. Their products serve the ignored, under-privileged and credit challenged. The SurgePays Portal will be the technological backbone allowing corner markets to order traditional and fin-tech products while letting store owners share in the revenue and save time.
Three interesting products that are poised for big growth are the following:
A low-cost Android phone
Free monthly no-contract, no-credit cellphone plan (and paid ones)
Re-loadable Visa that acts more like a bank account
The phone and the cellular plans are available now while the re-loadable Visa is due out the 1st quarter of 2019.
It is difficult for me to estimate the future share price. Share prices could reach $11 in 24 months assuming no dilution and if the products sell even modestly well. The upside is much greater than that if the products are really embraced. In a scenario of very high growth, I would imagine a buyout would be the most logical way to absorb the network and existing customer base instead of trying to compete.
Remember, this is a high-growth speculative stock so scale your investment size accordingly if you choose to invest at all.
Disclosure:
I/we have no positions in any stocks mentioned, but may initiate a long position in SURG over the next 72 hours.
I wrote this article myself, ...
more