Strong Earnings And Technical Break: Barrick Gold Heading Higher
Around one month ago, we asked, "Is Barrick Gold about to break out to new yearly highs?", and pointed to the recent investment from Warren Buffett's Berkshire Hathaway, constituting a position worth a little greater half a billion USD in the company.
After last week's strong earnings and the still very favourable market environment, and the break above a technical strong resistance zone at around 28.50/70, the time for new yearly highs may have finally arrived.
Strong Q3/2020 earnings - ABX crushes analyst's estimates by more than 25%
Last week, on Thursday, Barrick Gold came out with quarterly earnings of $0.41 per share, beating the consensus of $0.32 per share, mainly due to the recent rally in precious metals, especially in Gold as it reached new All Time Highs above 2,000 USD per ounce.
With the head-to-head race between Donald Trump and Joe Biden in the US Presidential Election having ended with a close win of Joe Biden and the resulting US-Dollar sell-off which went hand in hand with a strong push higher in Gold, stocks of #ABX took off too.
Gold and #ABX gave back most of these gains on Monday after news hit that Pfizer/BioNTech are on their way to a Covid-19 vaccine which is said to be effective in preventing the virus in over 90% of cases. However, considering the chances of a massive fiscal and further monetary stimulus plan, we're not yet convinced that this news is a real game-changer.
We have already pointed out several times in the past (e.g. here) that the chances of a massive fiscal package to stabilize the US economy arriving soon and an ultra-dovish approach from the US central bank FED to finance that fresh US debt are high. We still believe this is the case. Probably even more so now that Joe Biden has won the US presidential election.
Consider the following points, including recent US GDP data:
The US economy expanded in Q3/2020 by 33.1% (YoY), its biggest expansion ever, though GDP is still 3.5% below its pre-pandemic level
The outlook for Q4 and 2021 remains uncertain as the pandemic is far from under control and a vaccine is not ready yet
The next US government has no other choice than to deliver a massive fiscal stimulus package
This amounts to a fundamentally favourable environment for Gold and, thus, mining companies like Barrick Gold.
In addition to this, a bullish seasonal window in Gold opens in December and January, which could drive the price for the yellow metal back above 2,000 USD – and thus, #ABX, to fresh yearly highs and well above 30 USD per share.
In general, we're very positive on mining stocks, especially Barrick Gold, not only due to our bullish outlook for Gold, but also due to its strong balance sheet compared to the broader stock market and its companies.
As CEO Mark Bristow said in last week's earnings call:
"As today's results show, in the face of unprecedented challenges we have succeeded in beating our earnings consensus, reinforcing our 10-year plan and capitalizing on the gold price to maintain an industry-leading balance sheet"
How can you trade Barrick Gold/#ABX in this environment?
Technically, the short-term break below 26.00 USD, the August lows, can be considered a "wash out" and with a break above 28.50/70, the next target would indeed be found at around 31.00/30, the region of the current yearly highs.
But, as we already pointed out in our last take on Barrick Gold, longer-term investors and traders are aiming for a higher target on the upside, especially if the Gold price surges to well above 2,000 USD and goes for a run up to 3,000 USD in the next 18 – 24 months.
If such an outlook materializes, #ABX could be headed towards 55 USD, the current All Time High of the stock dating back to 2011.
That said, the current device seems to be: "Buy the dip!" – if there is one…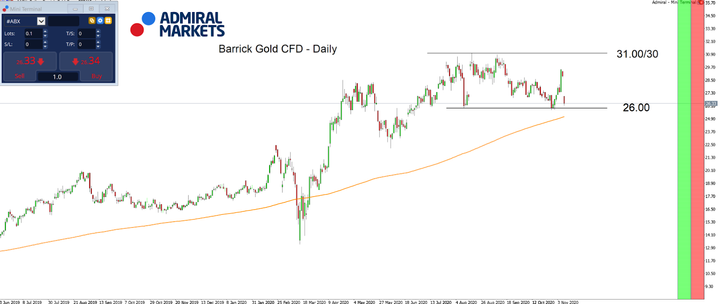 Source: Admiral Markets MT5 with MT5SE Add-on #ABX Daily chart (from June 13, 2019, to November 09, 2020). Accessed: November 09, 2020, at 07:30 AM GMT. Please note: Past performance is not a reliable indicator of future results, or future performance.
In 2015 #ABX fell by 31.25%, in 2016, it increased by 116.53%, in 2017, it fell by 9.45%, in 2018, it fell by 6.43%, and in 2019, it increased by 37.30%, meaning that in five years, it was up by 106.7%.
Disclaimer: The given data provides additional information regarding all analysis, estimates, prognosis, forecasts or other similar assessments or information (hereinafter "Analysis") ...
more