Stocks Pop As "Stonks" Controversial
In two weeks, Tom Brady vs. Patrick Mahomes will battle in the Super Bowl as the old guard vs. the new era. What's happening in the market right now is no different.
Think of Tom Brady as the hedge funds. As old Wall Street. As the suits. Think of Patrick Mahomes as the Reddit/Robinhood investor. The young renegade who could change the face of football or the stock market as we know it.
What's happened so far in 2021 is more significant than "stonks." What's happened is deeper than GameStop (GME) and AMC (AMC) surging by an astounding 1914.55% and 890.05%, respectively, year-to-date, thanks to these small-time investors.
We can make all the goofy stonk memes and laugh about how two has-been companies have suddenly become the new Bitcoin all we want.
But what happened is the potential changing of the guard of who the market-makers are.
I've been talking about a tug of war between good news and bad news and overvalued stocks (and "stonks") for weeks. But we have a new tug of war between the suits at Wall Street hedge funds and Reddit/Robinhood traders. The parallels between Brady vs. Mahomes are palpable.
The suits, aka the Tom Bradys, have been controlling the market for decades, manipulating it at their will.
But recently, a Reddit group called "WallStreetBets," i.e., the Patrick Mahomes traders, caught on to their game. This group made a joke about how poor GameStop's prospects were and how hilarious it was that hedge funds were shorting it en masse. So they banded together, bought enough shares of the stock to send it soaring, then forced the hedge funds to cover their shorts by buying it up some more!
WallStreetBets succeeded so much that they ended up closing a hedge fund's entire GameStop position!
Mahomes beat Brady in a blowout.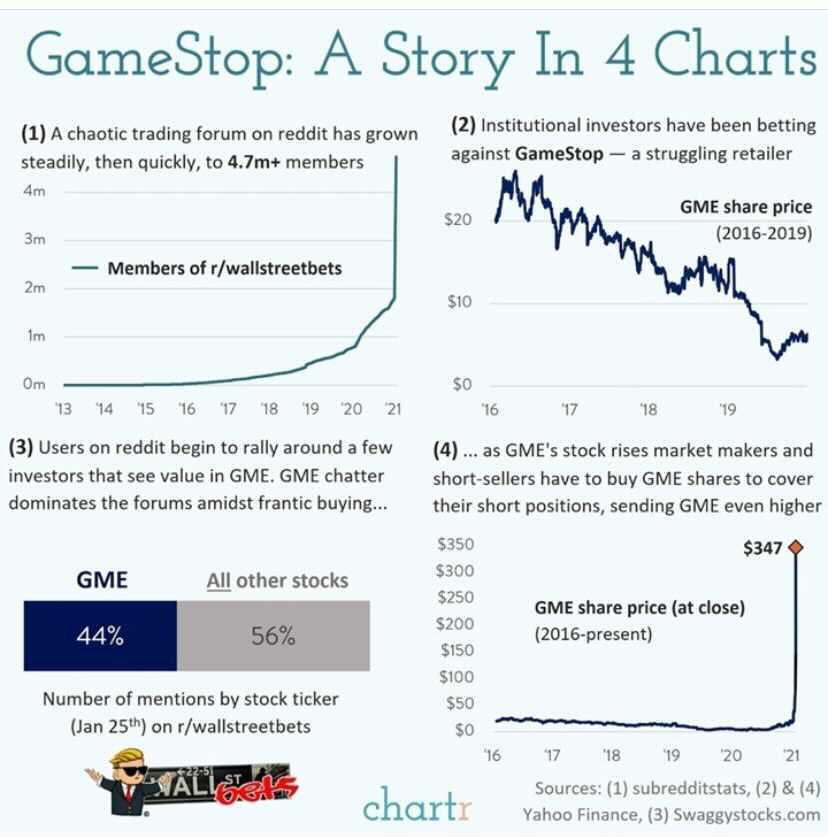 Granted, what happened on Thursday (Jan. 28) when Robinhood and other trading platforms halted all trading of GME, AMC, and other "stonks" of the like is disturbing. People are complaining about censorship on social media, and this is no different. It's a war against the little guy.
Disclaimer: All essays, research, and information found above represent analyses and opinions of Matthew Levy, CFA and Sunshine Profits' associates only. As such, it may prove wrong and be ...
more