Stock Market Crashes: Current Climate Compared To Prior Conditions
The Dow Jones has enjoyed a remarkable rally in the twilight of 2019 which has put it on pace to recoup losses from the year prior despite trade wars, slowing global growth and recession concerns. Evidently, the combined effort of the major central banks has paid off, with various stock markets approaching, or extending beyond, record levels. As the market enters a historically bullish time of year thanks to the Santa Claus Rally and January Effect, many market participants have called for a continuation higher.
But others are hesitant to accept current valuations – fearing the market has become complacent and the risks highlighted earlier in the year may still spark a crash. With that in mind, we can compare the current landscape to the conditions present immediately prior to three of the largest stock market crashes in the last 30 years.
United States Invasion of Kuwait and the 1990 Stock Market Crash
The stock market crash in 1990 followed the US invasion of Kuwait, which saw oil prices surge. In the lead-up, economic measures were unremarkable, but not to the degree that the subsequent market reaction would suggest. Upon the invasion in July 1990, the Dow Jones went on to plummet 18% before October of that same year as oil surged from $16 a barrel to over $40 a barrel.
(Click on image to enlarge)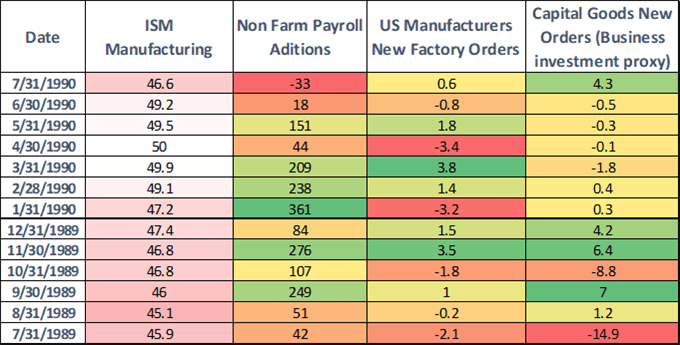 Source: Bloomberg
Asset performances at the time were largely within reason which gave market pundits little reason to suspect a looming disaster. The US Dollar and gold were lower for the year and stocks were establishing new all-time highs. Crude oil was beginning to show signs of volatility, but far from the level of volatility that would follow.
(Click on image to enlarge)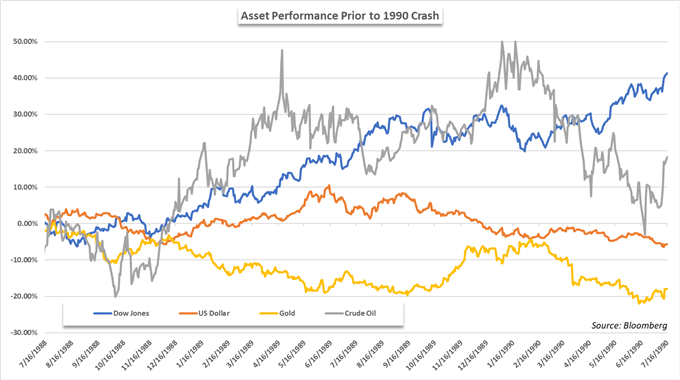 Similarly, simple technical analysis of the Dow Jones at the time reveals little cause for concern. Trading comfortably above its 50 and 200-day moving averages, the Dow Jones delivered a bullish breakout above 2,800 in mid-May 1990 – only to fall beneath 2,400 just 5 months later. From a technical standpoint, one could argue the Dow's drive above resistance at 2,800 mirrors the Industrial Average's recent breakout above 27,600.