Step Aside FAAMGs: Goldman Presents The "Future Five" Stocks That Will Define The Decade
(Click on image to enlarge)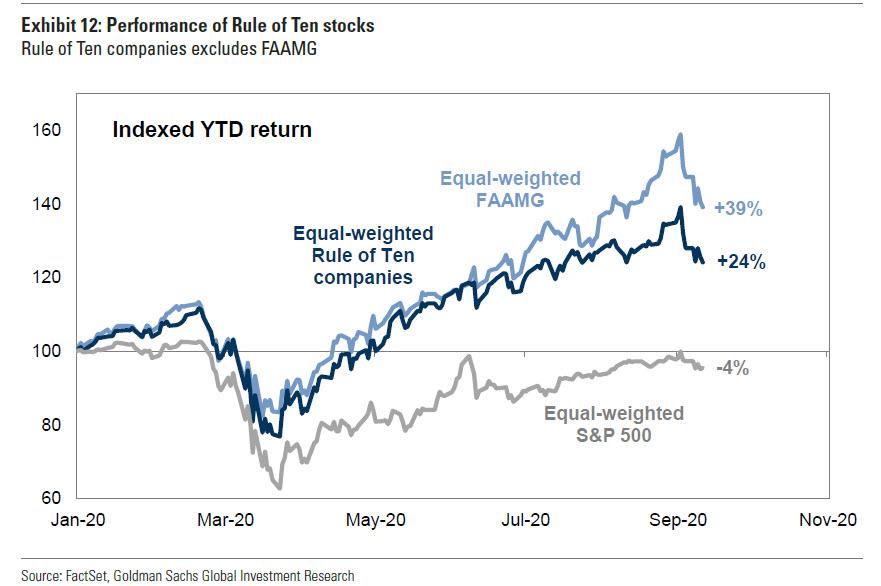 Presenting the "future five."
Having narrowed down the list of FAAMG replacements to 21, Goldman then applies a second filter to further concentrate the basket, with Kostin writing that most of its Rule of Ten stocks can be broadly classified into five themes, which we expect will be increasingly important in the future:
Finally, among those five themes, Goldman highlights potential "future five" stocks that the bank's equity analysts believe are well-positioned and have compelling growth opportunities: VRTX, ADSK, PYPL, ISRG, NOW, or VAPIN for short. During the past few years, these stocks have steadily climbed the S&P 500 equity capitalization ranking table.
(Click on image to enlarge)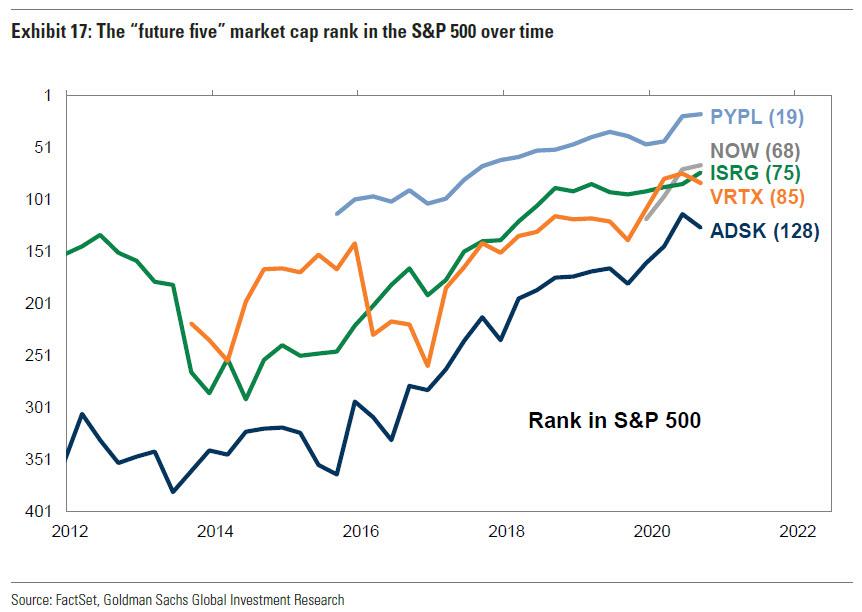 As expected, most of the future five are in the "second-tier" in terms of size, with no stock ranking in the current top 15 of the S&P 500. All five stocks rank in the top 150 of the index, but only PYPL ranks in the top 20. While growth stocks have often moved up in the ranking during the past few years, several stocks in the current top 15 of the index have been consistently large for many years. For instance, Berkshire Hathaway, Johnson & Johnson, and JPMorgan have ranked in the top 15 in every month since 2013.
(Click on image to enlarge)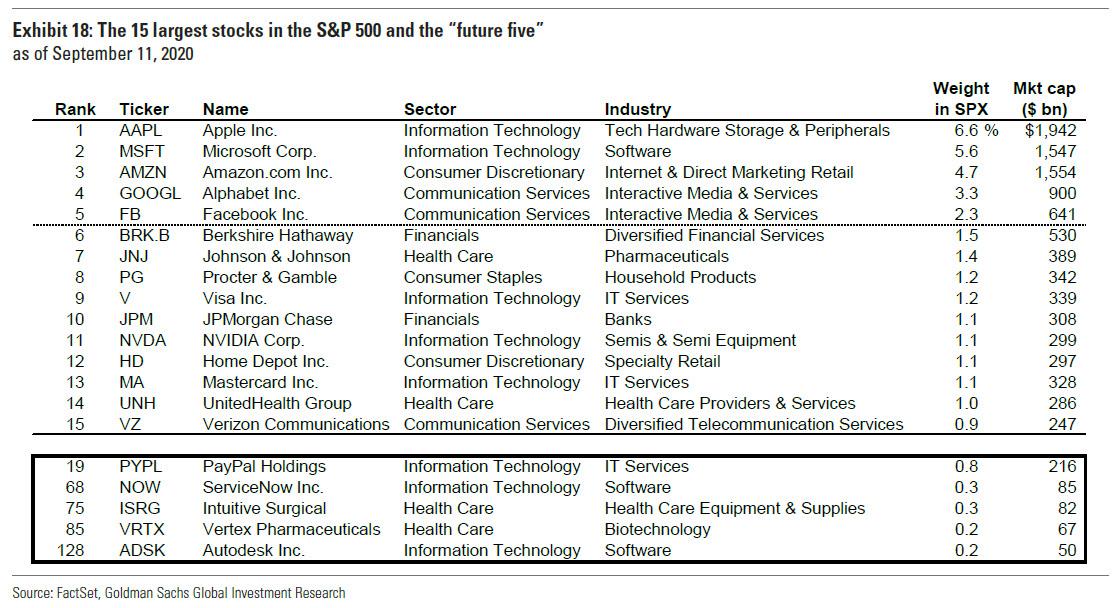 The future five offers 5x the sales growth of the S&P 500, and while carrying elevated absolute valuations, Kostin hedges this by noting their reasonable valuations relative to growth expectations. Consensus estimates that the median future five stock will have a sales CAGR of 20% from 2018 through 2022E (vs. 4% for the S&P 500 and 22% for FAAMG). Additionally, consensus estimates put the long-term EPS growth rate for the median future five company at a 35%, compared with 15% for FAAMG and 8% for the S&P 500. This high rate of growth is partly reflected in high valuation: The median future five stock trades at 42x 2021E P/E multiple (vs. 20x for the S&P 500 and 28x for FAAMG), but 1.8x PEG ratio (vs. 2.4x for the S&P 500 and 1.9x for FAAMG). The average large-cap core fund is underweight the typical future five stock, but large-cap growth funds are modestly overweight them.
Disclosure: Copyright ©2009-2019 ZeroHedge.com/ABC Media, LTD; All Rights Reserved. Zero Hedge is intended for Mature Audiences. Familiarize yourself with our legal and use policies every ...
more