Step Aside FAAMGs: Goldman Presents The "Future Five" Stocks That Will Define The Decade
The point here is that as firms become larger, rapid growth is challenging and threats to market positioning are plentiful. Regulation has been a particular focus for the current five, with the Department of Justice and Federal Trade Commission investigating AMZN, AAPL, GOOGL, and - as the WSJ reported overnight - FB. New market entrants also pose a risk to market leaders. On average, 5% of S&P 500 index constituents turn over each year. For instance, FB did not exist at the previous peak in market concentration in 2000. Finally, as in the case of XOM and Energy, industries may fall out of favor with investors.
(Click on image to enlarge)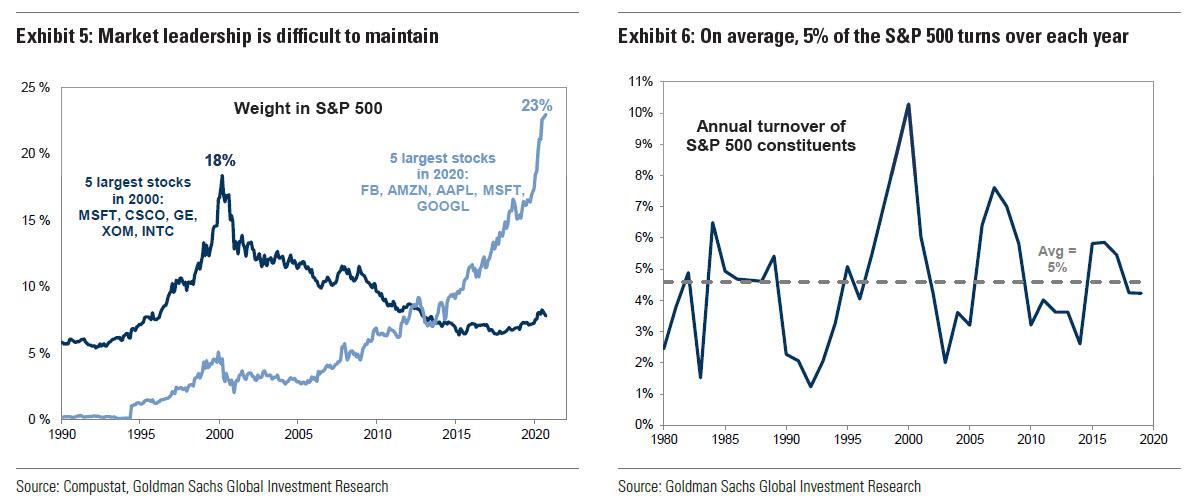 One last look back at history: in March 2000, the five largest stocks were expected to post 1999-2001 CAGR sales and EPS growth of 16% and 21%, respectively. The shares traded at a 2001E P/E of 44x and 10x EV/Sales. However, realized sales and EPS growth equaled just 8% and 12%, respectively. Today, the top five firms are forecast to deliver 2019-2021 CAGR sales and EPS of 15% sales and 14%, respectively, and trade at 2021E P/E of 33x and 5x EV/Sales. Expect a similar degree of disappointment when we look back at this time period in 20 years.
(Click on image to enlarge)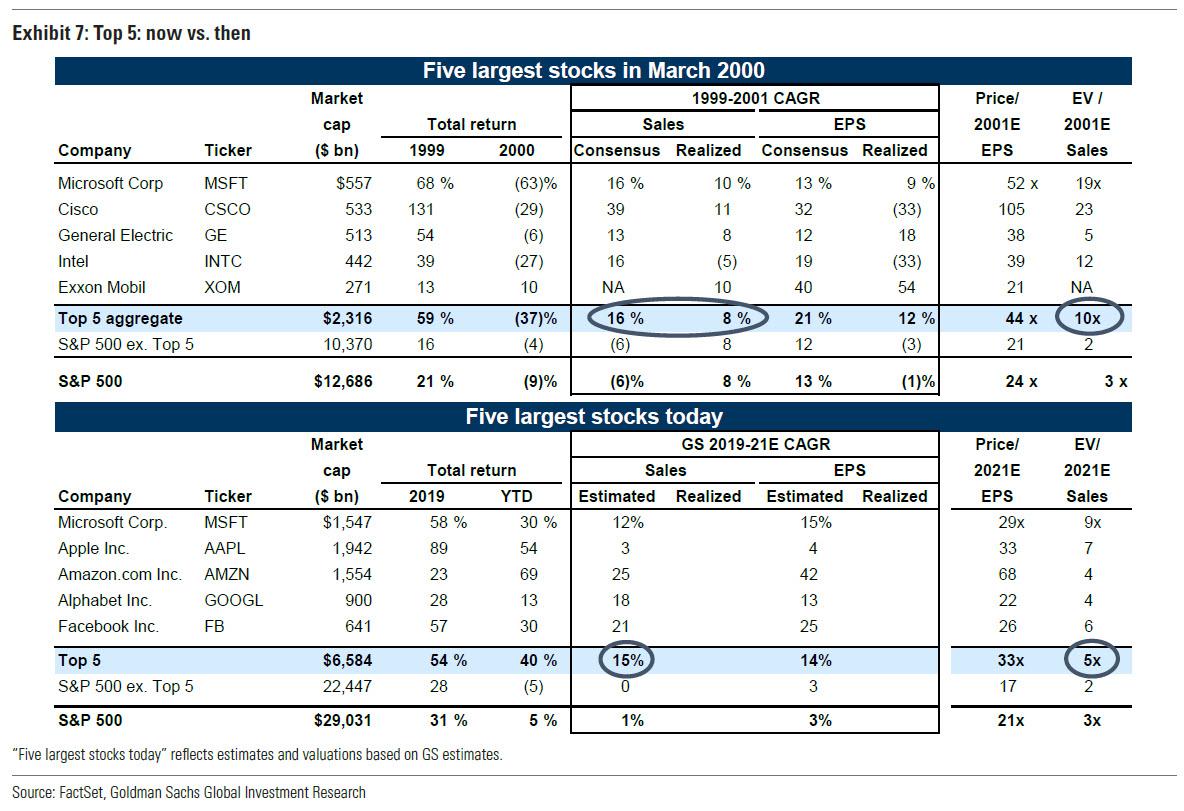 But enough about the past; what about the future, and the companies that Goldman believes will be the "Future Five"?
As Kostin explains in laying out his criteriea for screening for the "Future five", the defining characteristic of the "current five" has been rapid sales growth. FB, AAPL, AMZN, MSFT, and GOOGL have managed to sustain high revenue growth in the otherwise low growth environment of the last cycle. As GDP growth slowed following the global financial crisis, so did sales growth for many firms. The S&P 500 has posted a 4% sales CAGR since 2009 versus 7% between 1970 and 2009. During the past decade, FAAMG grew its aggregate top-line at a 20% CAGR. Furthermore, the ability of these stocks to grow sales independent of the broader economic circumstances has been brought into focus by COVID-19 and has reaffirmed their label as "secular growth" stocks.
(Click on image to enlarge)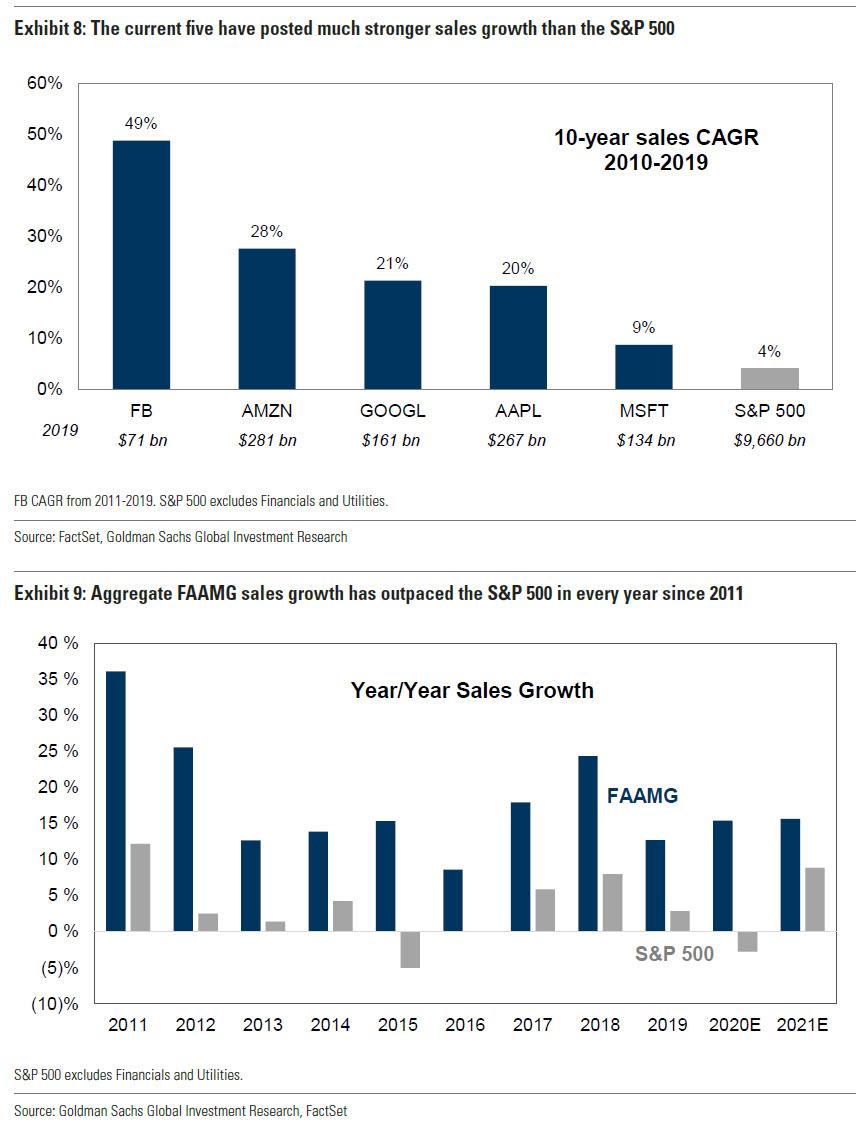 To identify the potential "future five," Goldman used the Rule of Ten criteria that screens for stocks with a track record of strong realized sales growth and expectations of continued superior revenue growth; this concept was introduced back in 2016 when Goldman first introduced our "Rule of Ten" which attempted to identify secular growth stocks based on the following criteria:
Realized sales growth of at least 10% in each of the last two years;
Expected sales growth of at least 10% in each of the next two years (now using consensus estimates).
There are 21 S&P 500 stocks that meet these Rule of Ten criteria and these are listed below. Four of the "current five" (FB, AMZN, MSFT, GOOGL) meet the Rule of Ten. Naturally, these are excluded from Goldman's final list as the objective is to identify stocks with high likelihood of climbing significantly in equity capitalization ranking and becoming the "future five."
(Click on image to enlarge)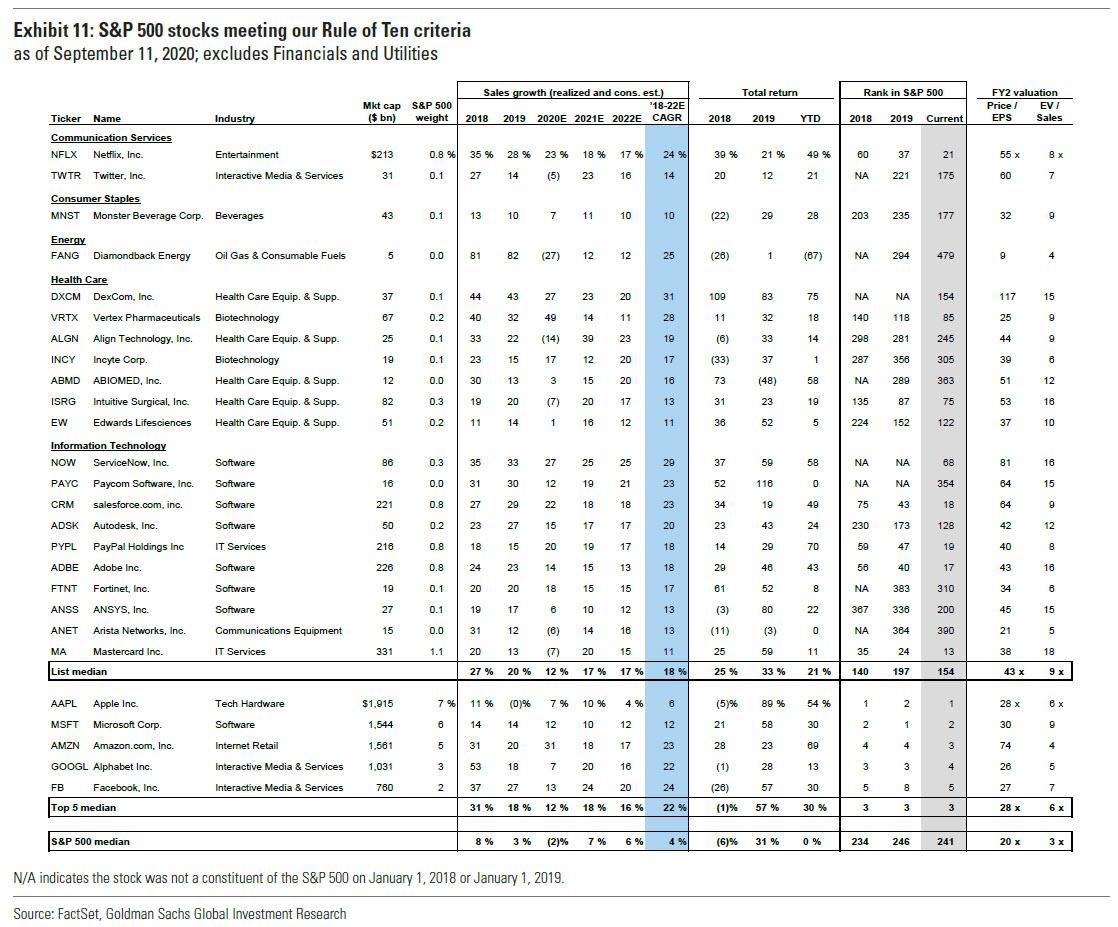 Some statistics: these 21 stocks are forecast to generate 18% annualized sales growth between 2018 and 2022, much faster than the median S&P 500 stock (4%) but less than FAAMG (22%). From a valuation perspective, the stocks trade at a P/E on 2021E EPS of 43x and an EV/sales multiple of 9x, well above FAAMG (28x and 6x, respectively) and the S&P 500 (20x and 3x). Not surprisingly the returns differ too: an equal-weighted basket of our Rule of Ten stocks has returned 24% YTD compared with a 39% return for FAAMG and -4% for the equal-weighted S&P 500. Daily returns YTD for our 21-stock list of Rule of Ten stocks also had a 0.91 correlation with the returns of FAAMG. Daily excess returns of our Rule of Ten stocks have had a 0.73 correlation to our Growth factor.
Disclosure: Copyright ©2009-2019 ZeroHedge.com/ABC Media, LTD; All Rights Reserved. Zero Hedge is intended for Mature Audiences. Familiarize yourself with our legal and use policies every ...
more