Startup Jock MKT Merges Stock Trading With Fantasy Sports Gaming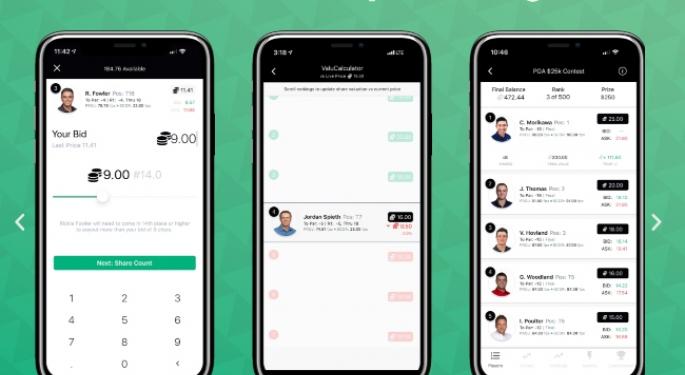 Getting tired of riding the NYSE and Nasdaq roller coaster? Has your Dogecoin (DOGE-X) distraction run dry? A startup in Boston may have a solution for those in search of the proverbial next big thing: a combination of fantasy sports gaming and retail stock trading called Jock MKT.
Play Ball!
Jock MKT is an app that allows users to generate cash by buying and selling virtual shares of athletes. Unlike the traditional fantasy sports betting pools, Jock MKT brings an investor-focused vibe to the game with features including buying and selling shares in real-time, using any dollar amount for share purchasing, and having the opportunity to either exit early or hold on until receiving fixed payouts tied to final player rankings, which are based on an overall fantasy scoring.
Furthermore, there is a Jock MKT version of the IPO, in this case the "Initial Player Offering," that gives users their first opportunity to bid on shares prior to any contest.
According to co-founder and CEO Tyler Carlin, Jock MKT raised its seed round in August 2019 and was set to debut in April 2020, but the COVID-19 pandemic and the subsequent suspending of professional sports resulted in a pause. In retrospect, Carlin recognized the delay might have been a disguised blessing.
"We had our free-to-play offering standard contest over the summer, where you just sign up and just play for free, win some money, and get familiar with the platform," he said. "It also gave us a little extra time to just continue to build out the product. We were actually fortunate that we had not launched earlier because we had kicked around the idea of doing something for the NFL Draft. But it would have been tougher to launch and then have to turn off our marketing or pivot."
The app launched in September 2020 with an initial focus on the NFL, NBA, and the PGA Tour. Trading activity tied to the NHL and MLB was added earlier this year. Jock MKT does not have direct business deals with the sports organizations, but has licensing agreements through a third-party vendor.
© 2021 Benzinga.com. Benzinga does not provide investment advice. All rights reserved.