Squarespace Valuation Is Out Of This World
Squarespace (SQSP) is expected to go public via direct listing on May 19, 2021. At a $10 billion valuation, based on the company's last funding round in March 2021, Squarespace earns our Very Unattractive rating.
We think Squarespace stock is worth at best $4.2 billion, or 58% lower than its expected $10 billion valuation.
A $10 billion valuation implies Squarespace's profits will be nearly double Etsy's (ETSY) and five times Shopify's (SHOP) profits. It also implies that Squarespace's market share, as measured by revenue, would rise from 9% in 2020 to 20% in 2030.
We think the chances of the company meeting the extreme profit expectations baked into its expected valuation are very low because of the commoditization of the website building industry and the availability of free substitutes.
Offering small and medium-sized businesses the ability to create a website and sell products online is valuable to users, but this market is already crowded with competitors who provide heavily discounted or free services.
Squarespace is losing money and may never turn a profit. Insiders need this direct listing more than investors.
Despite this being a "public offering", the CEO will retain 68% of voting control so investors get neither earnings nor much of a say on corporate governance by owning this stock. This direct listing looks like a bad deal to us, and we would not be buyers of this stock at anywhere close to the expected valuation.
Our IPO research aims to provide investors with more reliable fundamental research.
Revenue Growth and Growing Losses
By providing the tools to conduct business online, Squarespace benefited from COVID-19's disruption to our everyday lives. However, despite growing revenue 33% year-over-year (YoY) in 2020, profits remain elusive.
Core Earnings[1] fell from -$257 million in 2019 to -$493 million in 2020. The firm's Core Earnings margin fell from -53% to -76% while return on invested capital (ROIC) fell from 45% to -149% over the same time.
Figure 1: Squarespace's Revenue & Core Earnings: 2019-2020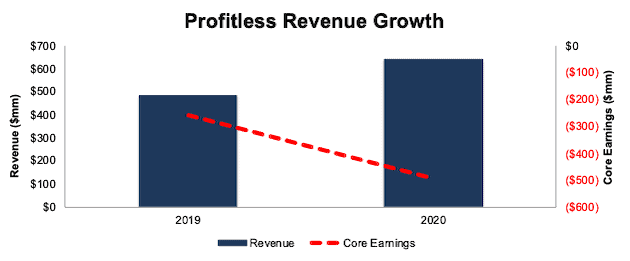 Sources: New Constructs, LLC and company filings
Large Total Addressable Market (TAM) Entices Investors
Squarespace notes in its S-1 that as of 2019, there were ~800 million small-to-medium sized business and self-employed ventures worldwide, each of which could be a potential customer. Meanwhile, Squarespace had just 3.8 million unique subscriptions at the end of March 2021.
The company also estimates its near and medium-term TAM is "in excess of $150 billion". Third-party analysis estimates the Web Content Management market will be worth ~$38 billion in 2030, which is obviously much lower, but still nearly 60x larger than Squarespace's revenue in 2020.
Such a large opportunity may entice growth investors, but buyer beware. A big TAM does not mean big profits. Given the competitive landscape of the industry, we see little room for Squarespace to generate profits or come close to achieving the future profits implied by its expected valuation.
Site Building & E-Commerce Capabilities Are a Commodity
Providing the tools to build websites and sell products online may sound like a lucrative business. However, in reality, these offerings are far from unique and have been commoditized by upstarts and incumbents alike. For instance, Squarespace competes with standalone and integrated firms offering:
Web Content Management ­– a system that allows users to easily create their own websites and administer website content with little programming knowledge (e.g. WordPress)
Payment Gateway ­– a service that allows merchants to securely accept credit card payments
Marketplace – an online platform to sell products and/or services from multiple third parties
Disclosure: David Trainer, Kyle Guske II, and Matt Shuler receive no compensation to write about any specific stock, style, or theme.