Snowflake Market Cap Surpasses IBM, AMD
The stock market frenzy resumed on Tuesday on the back of what Charlie McElligott calls "weaponized gamma," only instead of SoftBank (SFTBY) ramping stock prices by forcing a dealer short gamma squeeze, this time it appears to be retail behind the burst higher.
This is a result of what the Nomura quant calls "absolutely absurd" volumes in short-dated Calls in Robinhood names: Tesla (TSLA) saw ~950 thousand Calls trade, Palantir (PLTR) saw ~700 thousand, Nio (NIO) saw ~425 thousand, while the SPX only saw 350 thousand Calls traded.
As McElligott puts it, "this is a 'real thing' with the Retail hordes on Reddit/WSB intentionally creating negative convexity events for dealers in short-dated out-of-the-money upside Calls in these single-name high-flyers."
And with the TSLA momentum frenzy temporarily halted following today's $5 billion ATM stock offering, the euphoria has shifted to other daytrading names such as recently IPOed cloud-computing newcomer Snowflake (SNOW), whose shares continued their surge on Tuesday, sending its market valuation above both IBM (IBM) and AMD (AMD).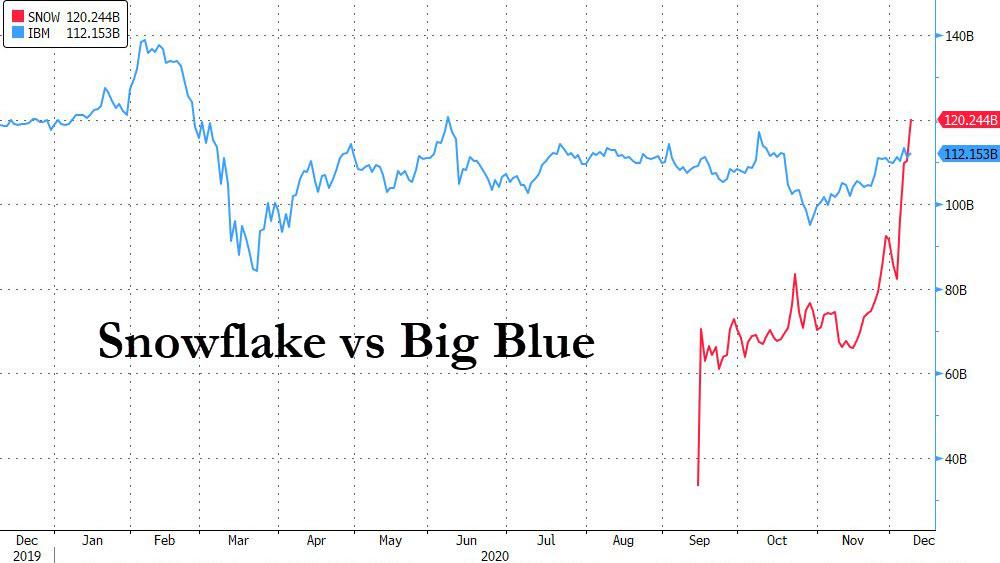 Putting the move in context, IBM, which is expected to generate $74 billion in revenue this year, has a market cap of $112 billion, while AMD, with nearly $10 billion in projected sales, weighs in at $111 billion. Snowflake, by comparison, should hit $578.2 million in revenue this year.
So if it's not fundamentals, what is it? Simple: everyone is once again scrambling into calls, with the total call option volume on Tuesday exceeded the 20-day average less than an hour into trading, and is set to outpace put options by a rate of almost 3-to-1.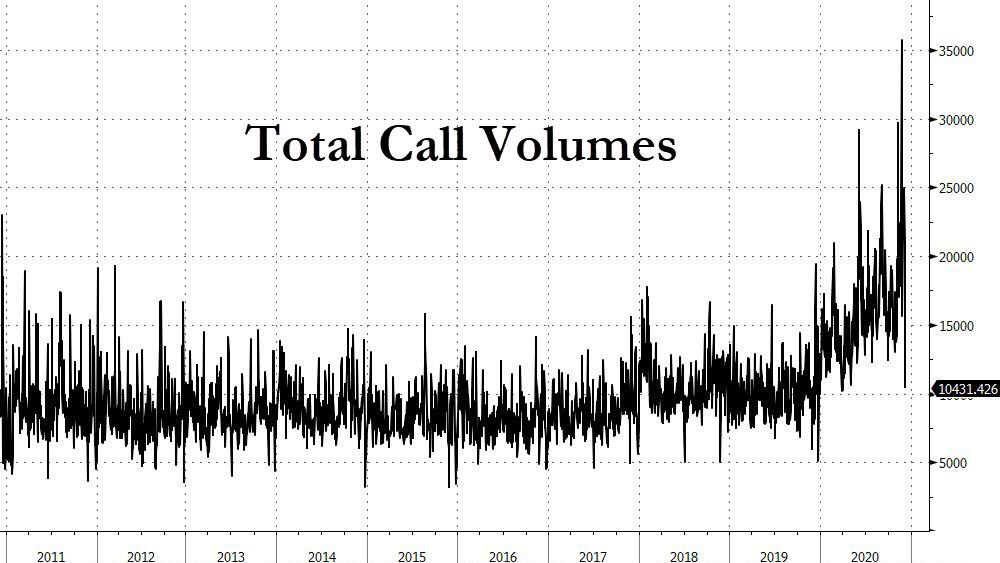 Disclaimer: Copyright ©2009-2020 ZeroHedge.com/ABC Media, LTD; All Rights Reserved. Zero Hedge is intended for Mature Audiences. Familiarize yourself with our legal and use policies every time ...
more