EC

Smart Shoppers Like Sales: Ross And Costco
Independent research house Morningstar sees it similarly. They carry ROST with a 2-star, out of 5, sell rating. Their fair value estimate sits at $59, about 12% below last week's quote.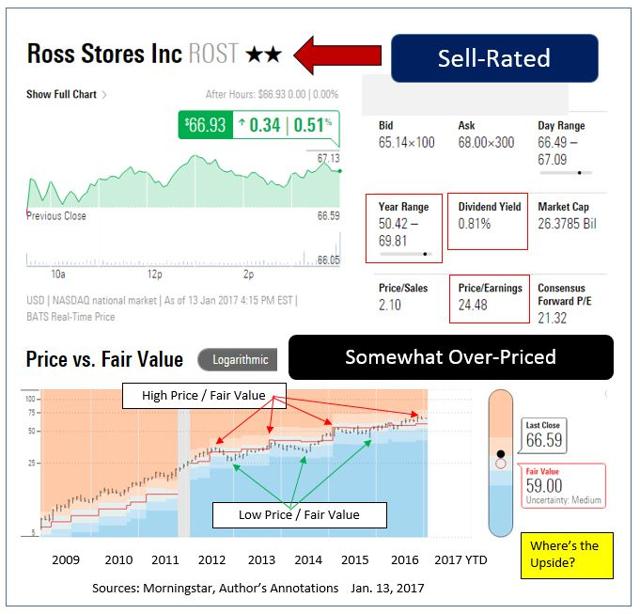 Costco is a terrific operator which prices product aggressively. COST makes virtually all its net profits from recurring membership fees. High customer loyalty allows management to raise those fees about 10% about once every two years.
The company's good characteristics are well known and appreciated, though. Costco was so beloved by investors that, late in 2015, its share valuation ventured to north of 32x (red-starred below). That valuation represents a 38% premium to Costco's 10-year average P/E of 23.2x.
Paying too much achieved the expected result. While profits trended higher over the ensuing thirteen months, COST shares traded last week around $7.70 per share lower.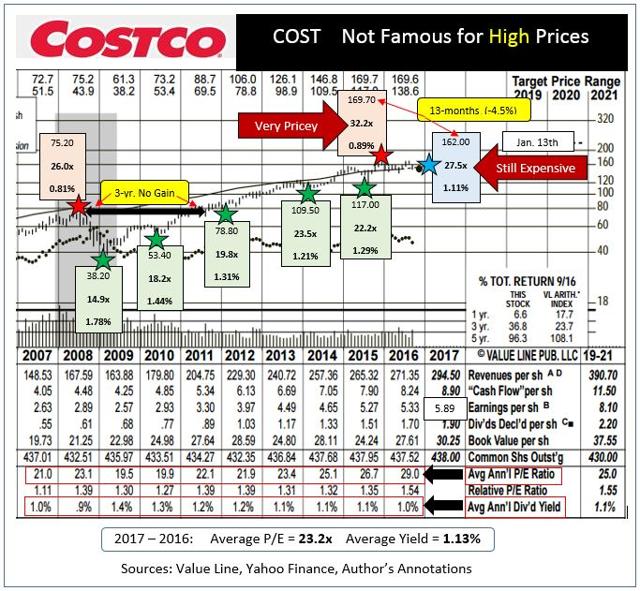 Costco's best entry points, during 2009, 2010, 2012 and 2015, came at below average multiples. Current yields at those moments (green-starred) were all higher than average as well.
As of Jan. 13, 2017, COST still fetched a pricey 27.5x its FY 2017 (ends Sep. 2, 2017) estimate of $5.89. Consensus views for FY 2018 now center on a rise to $6.54 per share. Applying a normalized P/E to Costco's forward estimate would only support an 18-month target price of about $152.
Could COST really see multi-year growth without parallel share price movement? A peek at the chart shows that's exactly what happened from the top in 2008 through the first half of 2011.
Once again, quantitatively-based Morningstar seconded my conclusion. They rate Costco with just 2-stars while calling fair value as $149, around 8% below the current quote.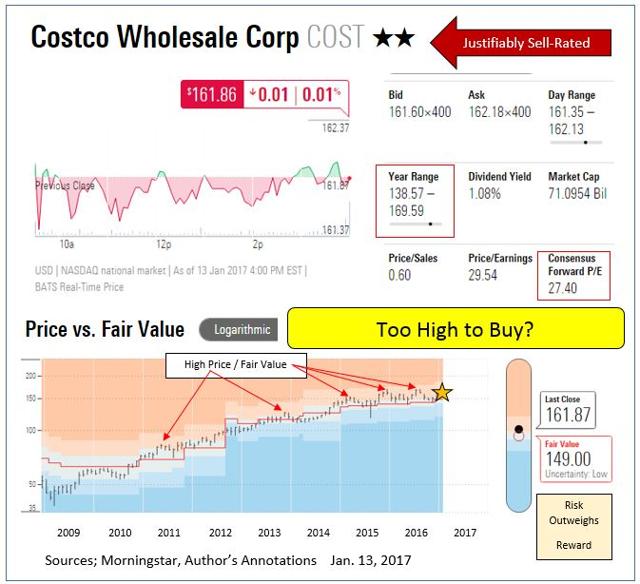 Why be the chump who pays top dollar to get stocks which are fated to go on sale later?
There will likely be much better future opportunities to get into Costco shares. It appears appropriate for value-conscious holders of both ROST and COST to be taking profits.