Should You Invest Like Donald Trump?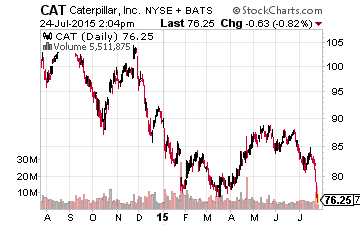 Caterpillar (NYSE: CAT) is another questionable investment by Trump. The stock is down close to 30% over the last year, but there remain plenty of concerns related to its inability to gain meaningful traction in emerging markets. And despite pumping home ownership in 2011, Trump sold out of D.R. Horton (NYSE: DHI) at a loss. (He should instead probably look to housing stocks from Bret Jensen here and here.)
Then there's his exposure to the oil and gas industry. He's taken losses on energy companies Occidental Petroleum (NYSE: OXY) and Enbridge (NYSE: ENB); yet, he's holding strong to others. This includes ConocoPhillips (NYSE: COP) and Chevron (NYSE: CVX).
I'm still not a fan of owning anything that relies on higher oil prices. MLPs that collect income from the transportation and refining of oil and gas, rather than the price, continue to be the best play in this market.
No. 2: His own public company was a disaster
In 1995, Trump took his Trump Hotels and Casino Resorts (former ticker THCR) public, which owned the Trump Plaza and was building the Trump Casino in Gary, Indiana. He raised $140 million in the public offering.
Yet, it was all downhill from there. Trump was chairman and de facto decision maker, owning a special class of stock that gave him voting control. The company lost money the years that Trump was in charge — losing upwards of $650 million for the near 10 years that Trump was at the helm.
When the company filed for bankruptcy in 2004, all that was left was 10 cents on the dollar for investors. The really interesting aspect is that over that same time period other casinos were booming.
Trump lost control of the company, but the damage was done. The company filed for bankruptcy twice more after that, in 2009 and then again in 2014.
No. 3: Trump lied to us about gold
Back in 2011, Trump was touting gold as the must own asset. Heck, he was even taking gold, in lieu of cash, as rent payment from his tenants. His premise was that President Obama was being reckless with his financial policies and endangering the U.S. economy.
Disclosure: None.
They're the kind that are an integral part of the reliable income strategy ...
more