"Should I Buy Coinbase?" We Asked A Top Crypto Expert
And the interest was huge.
Huge.
I mean, almost 17 million shares changed hands in the first 10 minutes.
That brings us to valuation.
Now, reporters at MarketWatch did an intriguing analysis – their takeaway was that "this is worth a whole lot less than it's being valued at." Now, remember, Coinbase ended its first day with a market cap of about $86 billion. MarketWatch said it should be worth less than $19 billion.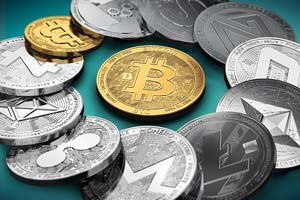 And the sell-siders have been all over the place on this. One analyst put a target of $195 on Coinbase on March 2, and after those huge Q1 estimates, that same analyst boosted his target 125% to $440. I've seen other analyst targets of $500 and $600.
It's early, but the wide range of opinions tells me Coinbase may be shaping up as a "love it or hate it" stock as we see with Tesla Inc. (Nasdaq: TSLA).
WPIII (Q): So a "cult stock."
DZ (A): To some extent, yes.
WPIII (Q): That brings us to the "dark side" of this stock – the risks.
DZ (A): Right. There's no shortage of risks here, especially over the long term. I mean, the market is going to grow exponentially as more people start investing in cryptocurrencies. But crypto has always been loaded with risk and is very volatile. That rubs off on Coinbase, especially the risk of a major downturn in the crypto markets.
The other big risk is increasing competition. Like I said before, Coinbase already has competent rivals. Coinbase also faces competition from outfits like Robinhood, which offers about half a dozen cryptocurrencies right now. But what if one of the major brokerages decides to jump in, like Schwab or eTrade? That could be trouble.
The key thing to watch here is what happens with the fees. Coinbase charges pretty high fees and gets away with it because its ease of use and convenience makes those fees worthwhile. It's clearly a better experience for beginners. Coinbase has a customer base of 56 million users – that's great, but rivals will be angling to steal those folks.
And countering with lower fees is the most obvious way to do that. You know, someone comes along and starts blaring: "Free crypto trading!" I mean, maybe Coinbase and other crypto exchanges will be able to make some money by selling data on the trades to Wall Street the way the brokerages do. That would help offset the loss of the high fees. But it's hard to say how that might be received. Privacy is an even bigger deal in crypto than it is elsewhere in the financial world.
On the other hand, I think Coinbase will do very well with its custodial business. The Coinbase CEO, Brian Armstrong, told CNBC yesterday that he expects custody, debit cards, and other lines of business to make up more than half of the company's revenue within the next five to 10 years. So it's good to know they're thinking ahead on this. The custody customers in particular are mostly big investors with deep pockets and a strong need. I don't think anyone will be offering crypto custody for free.
WPIII (Q): What about some other factors. A U.S. Federal Reserve digital currency? China wanting to create a currency to displace the U.S. dollar?
Disclaimer: Any performance results described herein are not based on actual trading of securities but are instead based on a hypothetical trading account which entered and exited the suggested ...
more