ShotSpotter CEO Loads Up On Shares Following Investor Conference
When it comes to insider transactions, I only pay attention to the purchases and sales of company executives – the CEO and CFO in particular. Last week, it was the CFO of ShotSpotter (SSTI) purchasing shares ahead of the investor conference. This time, an SEC filing after market hours revealed that the CEO bought shares after the investor conference.
On December 11th, CEO Ralph A. Clark purchased 2,000 shares for $14.27/share. He now owns 25,636 shares. Unfortunately, the stock sold off a bit after his purchase. SSTI closed the day at $13.56 with a 2.4% loss.
(Click on image to enlarge)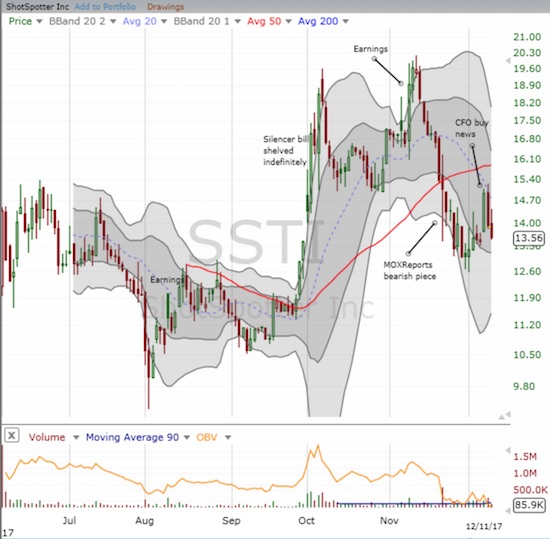 ShotSpotter (SSTI) completed a full reversal of its gains following news of the CFO's insider purchase.
Source: FreeStockCharts.com
Still, this purchase makes me even more confident in accumulating a larger position in the midst of whatever selling pressure is ahead thanks to lock-up expirations or the on-going bear raid. I think the insider buying reduces the odds of imminent and significant selling pressure from lock-up expirations.
There was also recent news to from South Africa and from Atlanta.
South Africa
The HeraldLIVE, which calls itself the voice of Nelson Mandela Bay, reported December 10, 2017 on plans in Nelson Mandela Bay to install CCTV cameras to film shootings captured by its ShotSpotter system. The article includes some performance data on the system that is part of a major anti-crime effort jointly operated by the South African Police Service and Metro police:
"The ShotSpotter pilot project was launched in October and within two months had recorded 824 gunshots in 240 separate shooting incidents…

The Kruger National Park uses a similar system to pinpoint the location of rhino poachers who use the cover of darkness…

Spotter data has allowed gang unit detectives to analyse patterns and the times of shootings to determine "hot spot" streets…

The mayoral committee member for safety and security, John Best, said authorities' average response time to shootings had been narrowed down to between two and five minutes."