Short Opportunity For Penumbra Following Expiration Of Earnings Blackout Period
Penumbra Inc. (NYSE:PEN) - Sell or Short Recommendation - $52.25 PT
Three days after earnings on May 3rd, the blackout period on insider trading will be lifted for PEN.
Major pre-IPO shareholders, directors and executives will have the chance to sell their 26 million shares, previously restricted since the IPO.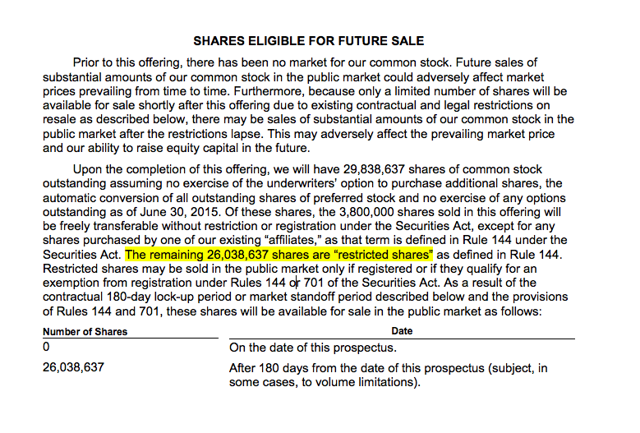 (Source)
While this first selling opportunity for insiders usually occurs on the date of a company's IPO lockup expiration, since PEN's lockup period expired during the third month of Q1 2016 (May 16th), an additional blackout period is in effect until Q1 earnings are fully released and disseminated following May 3rd.
The potential for a sudden increase in stock for sale on the open market (just 4M shares were initially offered) may cause a significant decrease in PEN's share price.

(Source)
Business Summary: Manufacturer of Medical Devices that Address Certain Vascular Conditions
As we discussed in our IPO preview, Penumbra Inc. designs, develops, manufactures and sells medical devices domestically and internationally. From the company's website, its portfolio includes neurovascular access devices under the brand names Velocity, PXSLIM, DDc, BENCHMARK, Select, Neuron and Neuron MAX, and aspiration-based thrombectomy systems and accessories under the brand name Penumbra System, in addition to a stent retriever for certain thrombectomy procedures called 3D.
According to PEN's filings, its Penumbra Coil 400 and SMART Coil are neurovascular embolization coiling systems that treat aneurysms and neurovascular lesions. Its other devices are under the brand names Liberty Stent, RUBY Coil, POD and Indigo System. The company sells its products through its sales force and distributors to hospitals in the neuro and peripheral vascular markets. Penumbra, Inc. was founded in 2004 and is headquartered in Alameda, California.
Solid Financial Performance Further Supports Possible Insider Selling Come Lockup Expiration
Disclosure: I am/we are short PEN.
I wrote this article myself, and it expresses my own opinions. I have no business relationship ...
more