'Shine On You Crazy Diamond': Analysts Respond To HubSpot's Earnings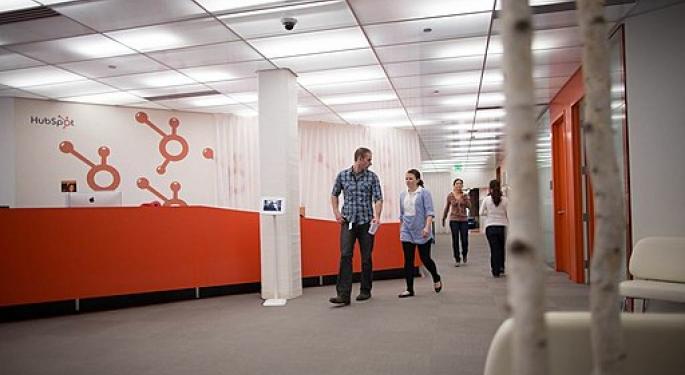 (Photo: RebeccaChurt, via Wikimedia Commons)
Shares of HubSpot Inc HUBS soared Friday after the company released a huge earnings beat for its fourth-quarter results and analysts raised price targets.
HubSpot's revenue shot up 35% year-over-year coming in at $252.1 million, far ahead of the Street estimate of $236.7 million. Adjusted EPS came in at 44 cents beating the Street estimate of 23 cents.
The HubSpot Analysts: Morgan Stanley analyst Stan Zlotsky maintained an Overweight rating and increased the price target from $436 to $567.
Needham analyst Ryan McDonald reiterated a Buy rating and increased the price target from $400 to $520.
Piper Sander analyst Brent Bracelin maintained an Overweight rating and increased the price target from $488 to $600.
Raymond James analyst Brian Peterson upgraded the rating from Overweight to Strong Buy and increased the price target from $365 to $726.
What They Think: Zlotsky was very impressed that HubSpot beat its pre-COVID-19 guidance. He called fourth-quarter earnings "outstanding" and said "the stock deserves to trade with the best-in-class SaaS assets." Zlotskey highlighted both the company's proven success and future outlook, then broke it down into four areas:
Accelerated growth from second-quarter 2020, when the pandemic hit, reporting a 43% increase in billing.
Growth sustainment into the full year of 2021 with HubSpot's guidance implying further growth of 32% year-over-year.
Strength expected to continue in probability improvements and free cash flow. HubSpot reported operating margins of 9.8% versus the consensus of 5.9%/6.2% and free cash flow of $45.8 million versus the Street estimate of $25.9 million/$27.2 million.
Revenue retention coming in at record levels in terms of both customer dollar retention and upgrade rates reaching record levels.
© 2021 Benzinga.com. Benzinga does not provide investment advice. All rights reserved.