Sell Ahead Of Lock-Up Expiration: Cotiviti Holdings, Inc.
Cotiviti Holdings, Inc. (NYSE: COTV) - Sell or Short Recommendation
The 180-day lockup period for Cotiviti Holdings, Inc. is scheduled to expire on Nov. 28, 2016. At that time, the pre-IPO shareholders will be able to sell their 77.2M shares, potentially flooding the market and driving the price down as a result. The 77.2M restricted shares represent approximately 86% of the 89.7M outstanding shares.
If the thirteen insiders (as well as funds held by Advent International) sell even a portion of their holdings, they could push COTV stock price down considerably due to an oversupply of shares on the market. We recommend either selling or shorting COTV shares in advance of the IPO lockup expiration. We predict a stock decline of approximately 4%, which is inline with what we have found in past research. We first previewed the IPO lock up expiration to our premium readers here.

(COTV S-1/A Filing, Edgar Pro-Online)
Business summary: Payments solutions provider for the healthcare and retail industries
Based in Atlanta, Georgia, Cotiviti Holdings, Inc. provides analytics-driven payment solutions for the healthcare industry. It counts among its customers Medicare, Medicaid and the 40 largest healthcare providers in the country. It also provides payment solutions for eight out of the 10 largest retailers in the U.S. and more than 40 retailers in total.
Per its filings, Cotiviti Holdings was formed in 2014 through the merger of Connolly Superholdings, Inc., and iHealth Technologies, Inc. As we described in our IPO preview, Connolly was a leader in providing post-payment solutions for accuracy; iHealth was a leader in providing pre-payment solutions for accuracy. The merger allowed Cotiviti Holdings to greatly expand its ability to provide solutions for its customers.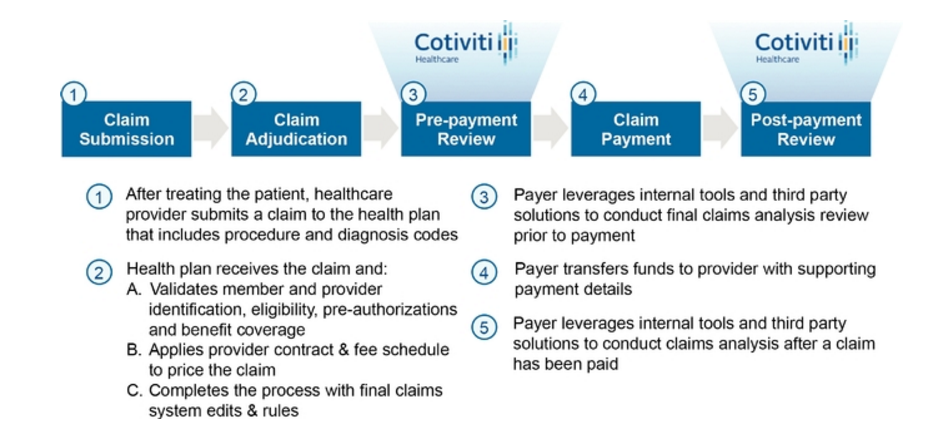 (COTV S-1/A Filing, Edgar Pro-Online)
Executive Management
CEO Doug Williams served as the CEO of iHealth Technologies from its founding in 2001. Before this position, Mr. Williams held executive positions at Cigna Healthcare, Magellan Specialty Health and Vivra.
Disclosure: I/we have no positions in any stocks mentioned, but may initiate a short position in COTV over the next 72 hours.